Why You Shouldn't Lie To Your Doctor About How Much You Exercise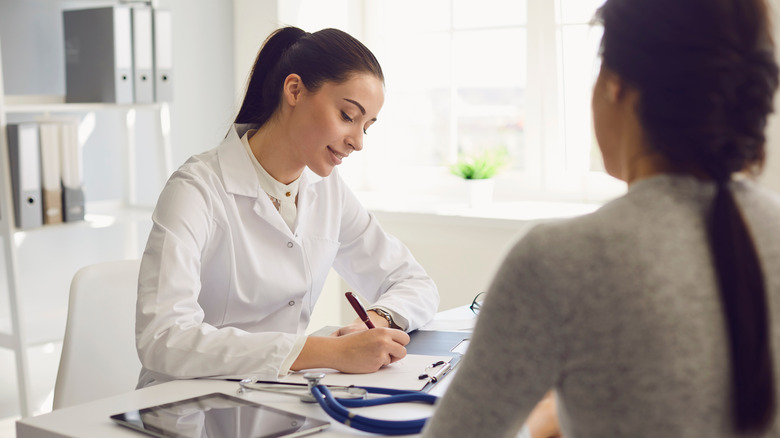 Shutterstock
Visiting the doctor can be an intimidating experience for some people. During a routine visit, your doctor will ask you many questions about your lifestyle habits including how much you exercise. It can be tempting to fudge the numbers to your doc, but it's important for your health that you stay honest.
Why do we feel like lying to our doctor in the first place? For many people, it's as simple as not wanting to be judged. "Most people want their doctor to think highly of them," Angela Fagerlin, Ph.D., chair of population health sciences at U of U Health and a research scientist with the VA Salt Lake City Health System's Informatics Decision-Enhancement and Analytic Sciences (IDEAS) Center for Innovation, said via Science Daily. "They're worried about being pigeonholed as someone who doesn't make good decisions."
A 2018 study by the University of Utah Health, of which Fagerlin was a senior author, found that 60 to 80 percent of people in the study were not completely honest with their doctor when sharing health information. The authors of the study found this statistic troubling because poor communication between patients and doctors can result in poor health outcomes. "If patients are withholding information about what they're eating, or whether they are taking their medication, it can have significant implications for their health. Especially if they have a chronic illness," the study's first author Andrea Gurmankin Levy, Ph.D., MBe, said.
Lying about your exercise habits can lead to real consequences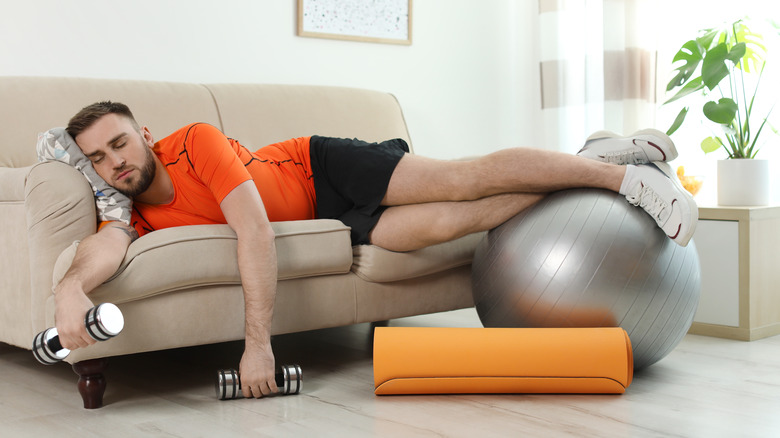 Shutterstock
It may seem harmless to tell your doctor that you exercise regularly when you don't, but this information is crucial for your physician to monitor your health condition and needs. Physical activity is one of the most important parts of your health. "It doesn't matter what you look like — your level of fitness and activity may be a better predictor of your future health than simply your size or appearance," Dr. Gaspere Geraci, family physician and market chief medical officer for AmeriHealth Caritas, told Insider.
A sedentary lifestyle puts you at a higher risk of developing heart disease and other health conditions. This is important for your doctor to know so that they can help create a health plan tailored to your unique lifestyle. Dr. Caesar Djavaherian, chief medical officer and co-founder at Carbon Health, stressed this to Insider, and added that "this goes back to assessing someone's risk for certain diseases. If patients are sedentary, they are at a higher risk for heart diseases. As a result, it might be a good idea for doctors and patients to start a conversation around activity level and lifestyle. Even if you don't listen to advice from your doctor, it's helpful to have the conversation."
According to the Centers for Disease Control and Prevention (CDC), adults should aim for 150 minutes per week of moderate-intensity physical activity.