What Really Happens If You Use Nair On Your Face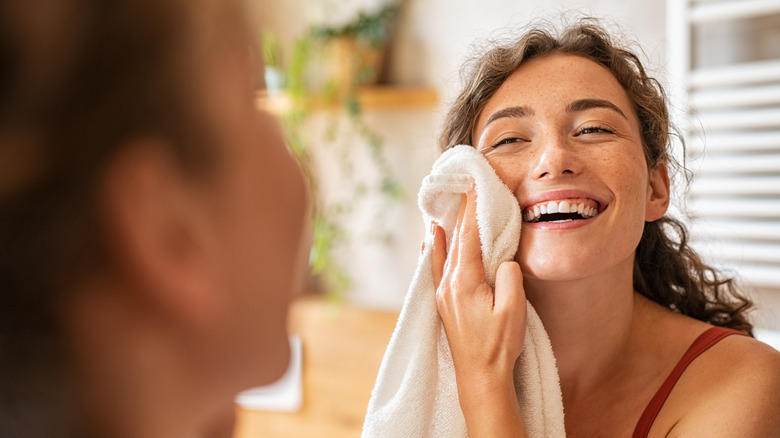 Shutterstock
Nair is a depilatory cream that works by dissolving hair at the skin's surface with chemicals (via Healthline). While this hair removal method is considered generally safe, it comes with risks and potential side effects. So what happens when you put it on your face, which is one of the most sensitive parts of your body? Here's what you should know.
You should avoid using depilatory creams on your face that are designed for the body. According to Cosmopolitan, these formulas have a higher concentration of chemicals to remove body hair that tends to be thicker than facial hair. Using a body formula on your face puts you at a higher risk of getting a chemical burn on your skin, which can be caused by Nair's active ingredients calcium hydroxide and potassium hydroxide (via Healthline). A mild chemical burn from Nair can cause redness and irritation while a moderate to severe one can cause raw skin and blistering.
Make sure you use the right type of depilatory cream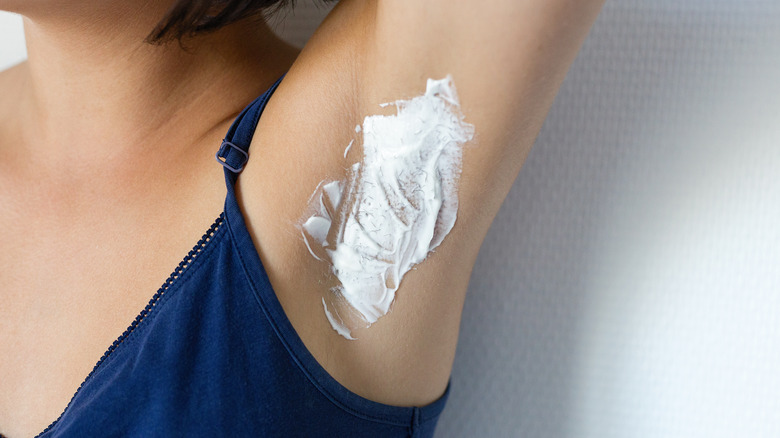 Shutterstock
Fortunately, Nair has a formula safe for facial skin. It is important to choose the best type of cream for your skin. "Use a facial formulation for the face, body formulation for the body," Robyn Gmyrek, MD, a board-certified dermatologist at Park View Laser Dermatology, told Who What Wear. "Use a sensitive-skin formulation if you have sensitive skin. While there are no specific criteria that these formulations must meet according to the FDA to label themselves as hypoallergenic or for sensitive skin, it is still, in my opinion, worthwhile to trust the manufacturer."
Because your skin is more sensitive than other parts of your body, you should be extra careful when using Nair on your face, even if it is a special formula. Always do a test patch to ensure you don't have an allergic reaction to the lotion. Be sure to follow the instructions carefully and follow them exactly to avoid any negative side effects. Finally, set a timer to ensure that you don't keep the cream on longer than planned. If you use the right formula and follow directions, you should have no problem leaving Nair on your face.