Why You Should Still Moisturize If You Have Oily Skin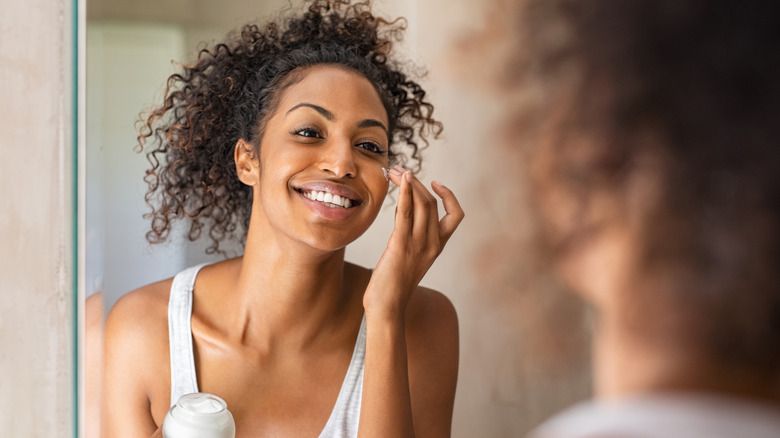 Rido/Shutterstock
Moisturizing is an important part of any skincare routine. If you have shiny or oily skin you may be tempted to skimp on face lotion or not use it at all. However, this can actually make your skin produce more oil over time.
Let's first look at why some people have oily skin in the first place. This skin type is usually genetic and is characterized by the greasy sheen that appears on your face soon after washing. "Oily skin happens when the sebaceous glands produce too much sebum," London-based consultant dermatologist Thivi Maruthappu told PopSugar. "Oil is produced in sebaceous glands and sits on the top of the skin to prevent moisture loss. But oily skin can still dry out if you use harsh facial cleansers, which can damage the skin's natural barrier."
When your skin gets dried out, your face produces more oil to try to compensate for the moisture loss. If you're already prone to oily skin, this can make you feel like a greasy mess all day. Moisturizing oily skin may sound counterintuitive, but it's actually one of the most important things you can do to balance your skin. "The right moisturizer can help to balance your skin and regulate oil production by restoring the skin's natural barrier," Dr. Maruthappu said.
Some moisturizers are better suited for oily skin than others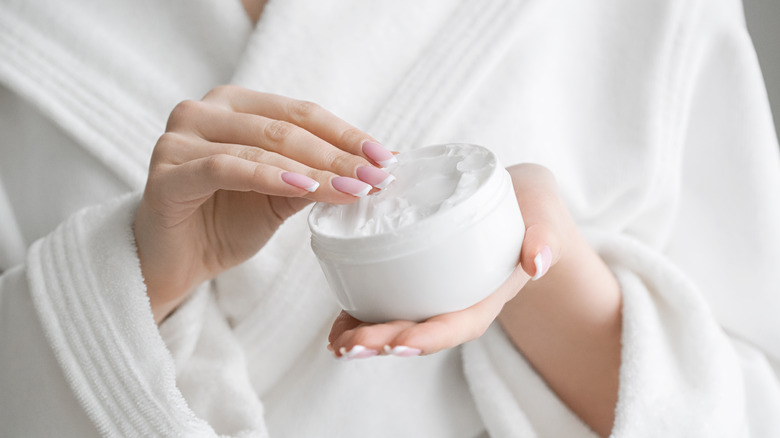 Irina Bg/Shutterstock
As important as it is to moisturize oily skin, it's just as important to pick the right product for your face. "Look for non-comedogenic moisturizers, meaning they won't clog pores," Dr. Eric Schweiger, founder of Schweiger Dermatology Group ​in New York City, told Bustle. "Skincare ingredients to steer clear of if you have acne include mineral oil, cocoa butter, lanolin, and petrolatum."
Ingredients that are good for oily skin include glycerin, hyaluronic acid, aloe, and squalane. You should look for moisturizers that are labeled as "oil-free," because while you want more moisture in your skin, you don't need any more oil. According to Allure, some of the best moisturizers for oily skin are Farmacy Daily Greens Oil-Free Gel Moisturizer with Moringa and Papaya, Shani Darden Weightless Oil-Free Moisturizer, Tata Harper Water-Lock Moisturizer, and Indie Lee Active Oil-Free Moisturizer. Some great drugstore options include Versed Dew Point Moisturizing Gel-Cream, Burt's Bees Hydrating Stick with Aloe Water, and Simple Water Boost Hydrating Gel Cream.