Your Underwear Might Be Bad For You. Here's Why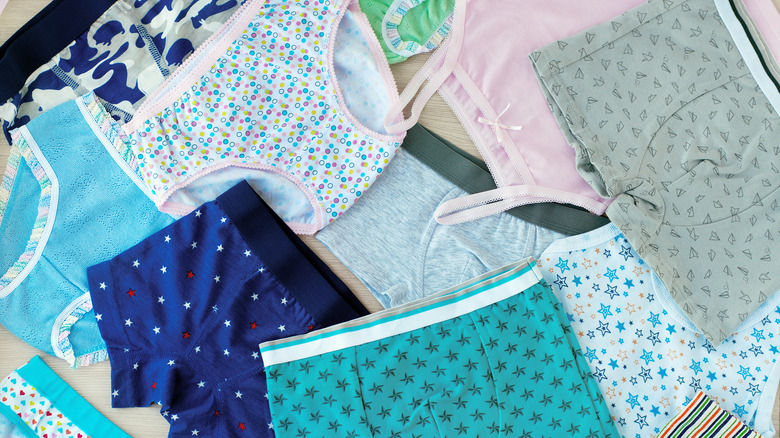 Evgeniya369/Shutterstock
Underwear is something we all use but rarely think about. When you shop for this undergarment, you probably pick out pieces based on your color and fit preferences. However, underwear can affect your health as well. Here are some materials and fits you may want to avoid.
It can be fun to buy lacy, decorative panties for a special occasion. But these materials can cause irritation to the sensitive skin that underwear protects (via Health). This is especially true if you wear this type of undergarment for long periods of time or don't switch up the materials. The best underwear fabric is cotton, which is breathable and pulls moisture away from your skin. Cotton is also comfortable and one of the cheapest options.
"Breathability is really important," Alyssa Dweck, MD, an ob-gyn in Westchester County, New York, told Women's Health. "Synthetic materials like Lycra and nylon can be confining and non-breathable and can lead to irritation, rashes, and infection, especially if you're already prone to those things." When picking out underwear, opt for pairs that say "100% cotton" on the label.
Your underwear's fit is important too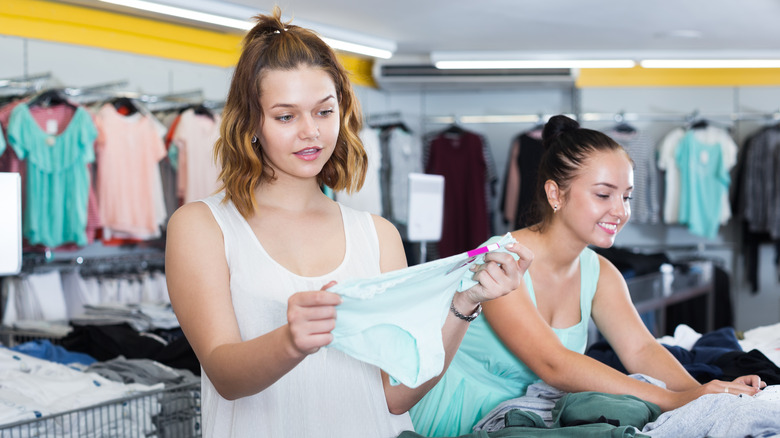 Iakov Filimonov/Shutterstock
In addition to the material your underwear is made from, you should also be paying attention to how it fits your body. Underwear that is too tight can cause chafing and irritation (via Healthline). If you prefer to wear tight clothing, your ideal pair of underwear may be a size larger than you're used to. It doesn't have to be baggy, but it shouldn't leave imprints on your skin either.
Even the best-fitting pair of cotton underwear can be bad for your body if you're on your second or third day of wearing it. Changing your underwear regularly is crucial for the health of your private parts. If you have no sweat or discharge down there during the day, you may be able to get away with wearing the same pair for two days in a row. However, that's as far as experts say you should push it before that pair goes in the wash. Moisture buildup can trap bacteria in your undergarments that can cause issues like yeast infections and rashes when kept close to your skin for too long.