What We Know About The Safety Of The COVID-19 Vaccine For 5- To 11-Year-Old Children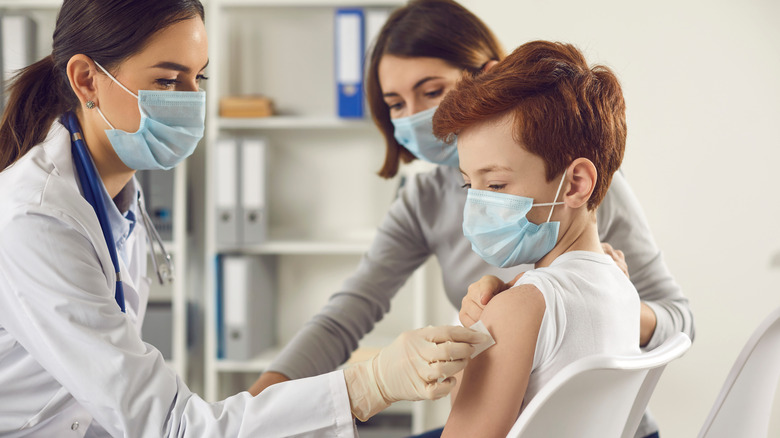 Studio Romantic/Shutterstock
Pfizer's COVID-19 vaccine is safe and effective in children aged 5 to 11, the company announced in a joint press release on Monday, September 20. According to early results of Pfizer's Phase 2/3 clinical trial, a lower dose of the mRNA vaccine generated a robust immune response in young children and showed encouraging antibody levels (via The New York Times).
The children participating in the trial received a dose of 10 micrograms of the vaccine, which is exactly one-third of the dose approved for people 12 and older. This news comes as more and more children across the United States are contracting COVID-19 and requiring hospitalization. A September report published by the American Academy of Pediatrics (AAP) found that children now account for more than one in five new cases of the virus.
While children still have a lower risk of contracting COVID-19 than adults, the number of child hospitalizations has gone up in recent months, especially in areas with low vaccination rates. In August, around 30,000 kids were hospitalized with COVID-19 (via The New York Times). As such, confirmation of a safe and effective COVID-19 vaccine for younger children is welcome news. "There's going to be a huge number of parents who are going to heave a big sigh of relief when they hear this," Dr. Kristin Oliver, a pediatrician and vaccine expert at Mount Sinai Hospital in New York, told The New York Times. "We've been waiting for these kids to be protected."
When will the COVID-19 vaccine be available for children?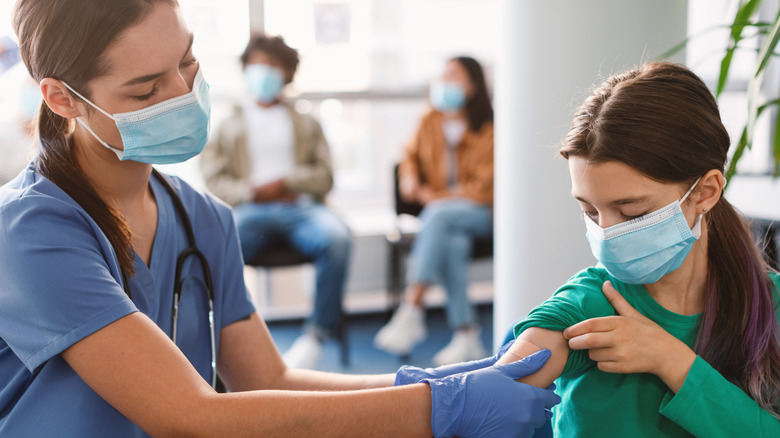 Prostock-studio/Shutterstock
Although an exact timeline has yet to be confirmed, Dr. Scott Gottlieb, a former U.S. Food and Drug Administration (FDA) commissioner and current Pfizer board member, expects the vaccine to be available for children ages 5 to 11 within a couple months (via CNN). Before that can happen, however, Pfizer will first need to apply for emergency use authorization from the FDA, a process they plan on completing by the end of September.
"Pfizer could be in a position to file very quickly," Gottlieb told CNBC. "The data came a little earlier than some were expecting, and depending on how long the FDA takes to review the application — whether it's a four-week review or a six-week review — you could have a vaccine available to children as early as probably by the end of October, perhaps it slips a little bit into November." While the FDA has already committed to reviewing the clinical trial data as quickly as possible, the agency has also stressed that their number one priority is making sure the vaccine is safe and effective and will not cause any adverse side effects.