This Is What Happens When You Eat Quinoa Every Day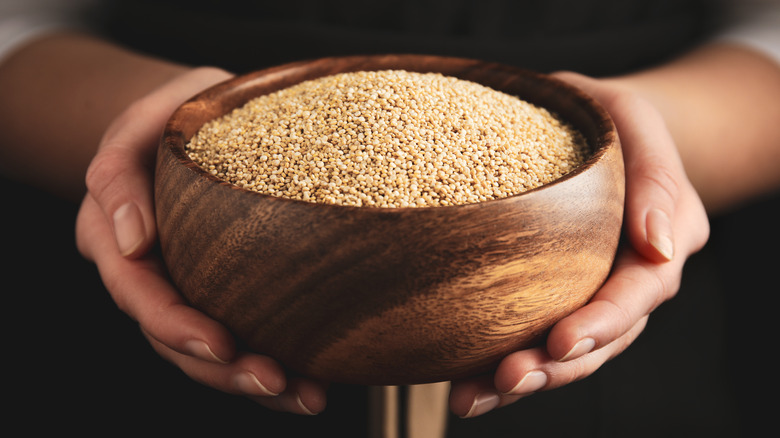 New Africa/Shutterstock
Quinoa (pronounced "keen-wah") has become so popular that the Whole Grain Council honored it in its "Grain of the Month" calendar.
A "pseudo-cereal grain" originating roughly 5,000 years ago in the Andes in South America, quinoa initially only populated the shelves of natural food markets when it was first introduced in the United States. However, quinoa has since fully made its way into the mainstream. This is because the world has discovered that quinoa is a plant-based protein powerhouse packed with potassium, antioxidants, and a whole array of nutrients, such as fiber, iron, vitamin B and other vitamins and minerals. More than 50 countries now grow quinoa.
Another reason quinoa may have grown in popularity is its association with promoting weight loss. A 2015 study published in Plant Foods for Human Nutrition suggested that quinoa may be associated with decreased weight gain, and the findings of a 2019 study featured in Food Chemistry revealed that quinoa intake appeared to reduce inflammation and cholesterol in obese mice.
How to incorporate quinoa into your diet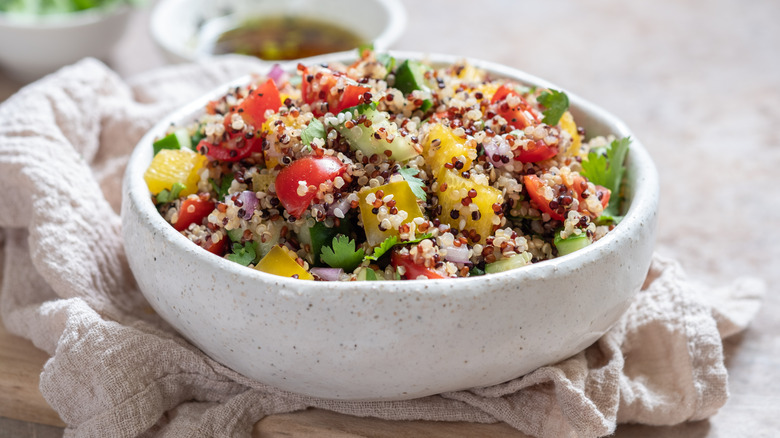 Elena Shashkina/Shutterstock
Quinoa's health benefits notwithstanding, is it safe to eat quinoa every day?
A 2016 study out of Harvard School of Public Health that analyzed the health benefits of whole grains suggested that quinoa indeed possessed the kind of whole grain ingredients that you can consume daily as part of the recommended dietary guidelines. Looking to further investigate the effects that daily quinoa consumption can have on one's diet, the Human Nutrition Research Centre conducted a study published in 2018 that suggested daily consumption of quinoa appeared to modify glucose levels. However, the researchers concluded that more studies are needed to get a more accurate understanding of quinoa's link to health benefits.
If you're looking to give quinoa a place in your diet, there are many ways to incorporate it into your weekly meal plan. According to Mashed, quinoa can enhance a variety of your favorite foods, from pizza to oatmeal, when you know a few tasty secrets on how to prepare it or what brands to look for. One thing to keep in mind when preparing quinoa — it has a bitter-tasting natural exterior called saponin, which you may or may not decide to rinse off, depending on your palate. 
If you're looking for an easy meal that you can enjoy over several days or keep in the freezer, Mashed suggests a quick and tasty quinoa enchilada casserole recipe. And for you pizza lovers — especially those who need to eat gluten free — Mashed highly recommends the quinoa pizza crust recipe. Quinoa also makes a great healthy side dish alternative to rice or potatoes. Preparation will typically take only around 20 minutes. Quinoa also adds texture to soups and salads, and you may flip for quinoa pancakes.
More studies are needed to understand the benefits of quinoa, but, in the meantime, experts support eating quinoa frequently as part of a well-balanced diet.