Do Pregnant Women Who Get The COVID-19 Vaccine Pass Protection Onto Their Babies?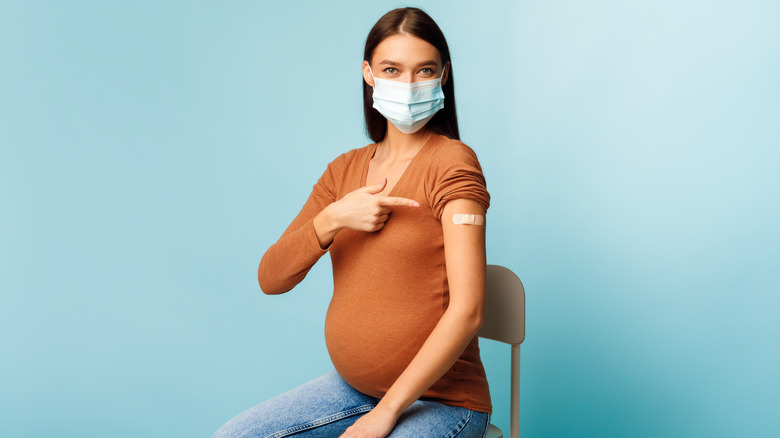 Prostock-studio/Shutterstock
Pregnant women getting vaccinated against COVID-19 have been wondering if the protection gets passed on to their babies. If they do, newborns could be born with some added protection from the virus.
According to the CDC, the vaccines are safe and effective for pregnant women and anyone trying to get pregnant now or in the future. In addition, there is no evidence that any vaccines cause any reproductive problems. The CDC encourages pregnant women to sign up for their v-safe COVID-19 Vaccine Pregnancy Registry, which contacts them several times throughout their pregnancy with questions about their health, pregnancy, and other medical histories.
In an August 2021 study, researchers studied information from over 17,000 pregnant and lactating people and found that they did well receiving the COVID-19 vaccines. They didn't have more severe symptoms than non-pregnant people. The most common side effect was pain at the injection site.
Although pregnant women are at an increased risk of severe illness and death from COVID-19, only 16.3% of pregnant women in the United States have received at least one dose of a COVID-19 vaccine (via the CDC).
Do pregnant women pass on vaccine protection?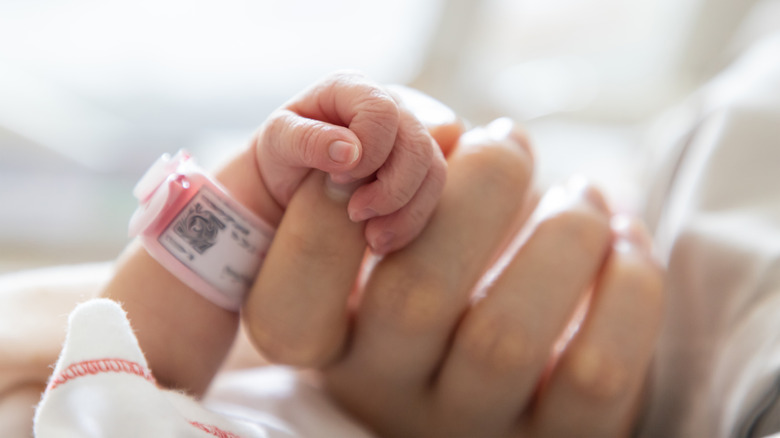 Ratchat/Shutterstock
COVID-19 vaccines are safe and effective for pregnant women, but do they pass on that protection to their growing babies? One study has the results.
A study published September 21, 2021, in the American Journal of Obstetrics & Gynecology — Maternal-Fetal Medicine, wanted to find out if pregnant women who received the COVID-19 vaccine passed on any protection to their babies. So they set out to determine the presence of "transplacental antibody transmission and levels of detectable antibodies" by testing the umbilical cord blood in 36 newborns whose mothers got at least one dose while pregnant with an mRNA vaccine from Pfizer-BioNTech or Moderna. At the time of delivery, 35 out of 36 women received two doses before their babies were born.
Researchers discovered all 36 newborns had antibodies from the vaccines at birth. "These findings demonstrate transplacental antibody transfer following mRNA COVID-19 vaccination during pregnancy with 100% of cord blood specimens having high levels of anti-S antibodies."