Are V8 Energy Drinks Actually Good For You?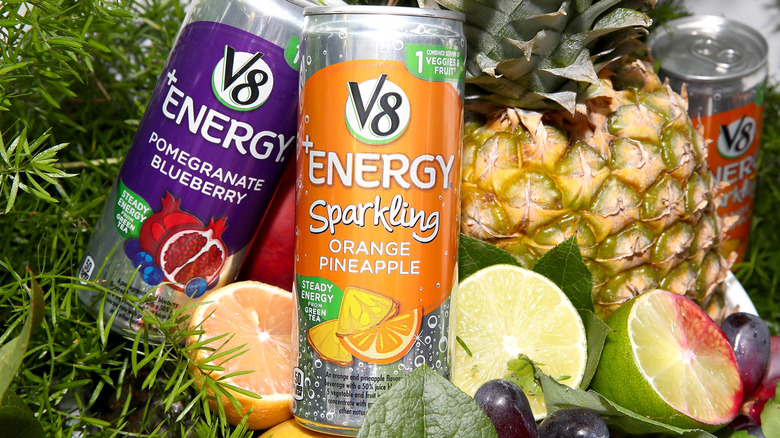 Astrid Stawiarz/Getty Images
According to the book "Sports and Energy Drinks," energy drinks originated in Japan in the early 1960s (via Science Direct). These initial energy drinks included extra caffeine and vitamins, which are typically the main ingredients in many of the energy drinks that can be found on the market today.
The energy drinks industry is broad, encompassing a wide number of products that identify themselves as beverages that will give your body an added boost. This buzz of energy drinks apparently continues to create buzz, with sales in the United States increasing by nearly 6% in 2020, according to Statista.
Despite the strong presence of energy drinks, the Food and Drug Administration (FDA) does not regulate them, nor does the agency have a classification system between energy drinks and sports drinks (via USADA). It is, therefore, important to be mindful of the ingredients in the energy drinks you consume and the impacts the caffeine and sugar levels can have on your body. According to the National Institutes of Health, the bottom line with energy drinks is that "a growing body of scientific evidence shows that energy drinks can have serious health effects, particularly in children, teenagers, and young adults." Is this true of V8 energy drinks too?
They claim to be 'a healthier alternative'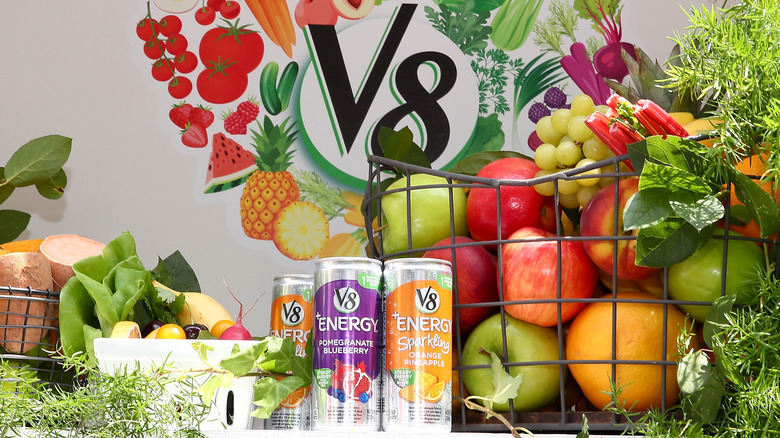 Astrid Stawiarz/Getty Images
V8 is a Campbell's beverage brand that has been around since 1933. Campbell's describes V8 as "the original plant-powered Drink" (via Campbell's). In 2012, Campbell's launched a spinoff in its brand portfolio, introducing V8 energy drinks that the company described in a press release as "a healthier alternative to most energy drinks on the market."
As far as the original V8 product, Healthline says it is not exactly a "superfood" because it is a processed product that strips down the inherent fiber and vitamins of the vegetables. From that starting point, let's now look at the V8 +Energy drink. One ingredient it includes that nutrition experts see as a negative is sucralose, the sugar substitute known by the brand name Splenda. "Sugar substitutes are controversial, but the latest research is showing that artificial sweeteners such as aspartame or Splenda, change the gut microbiome for the worse," Dana James, a triple board-certified nutritionist and founder of Food Coach, told Well+Good. Nevertheless, Medical News Today includes V8 +Energy on its list of "top natural energy drinks" for its modest levels of naturally occurring caffeine along with containing vitamins C, B6, and B3.
However, the site pointed out that even if an energy drink contains some healthy ingredients, the best way to support overall wellness is by eating a healthy diet, staying well hydrated, limiting alcohol, avoiding smoking, and getting adequate sleep. Energy drinks are likely okay on occasion as a quick way to boost alertness and concentration, but should never be used as a substitute for maintaining healthy practices.