Can CBD Help With Insomnia?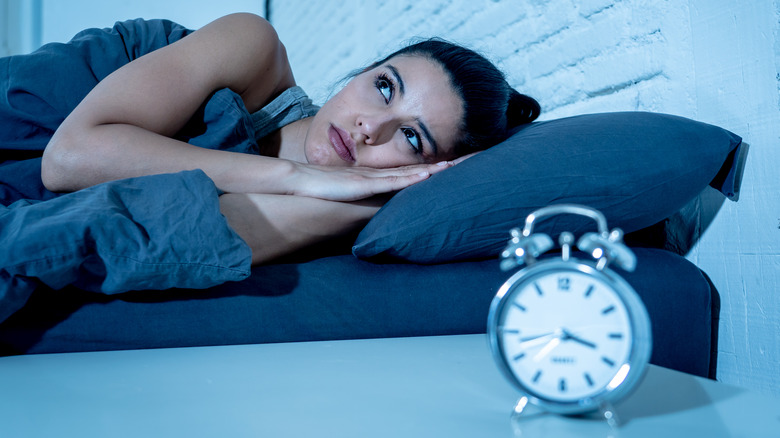 Sam Wordley/Shutterstock
Countless studies support the importance of getting the proper amount of sleep on a consistent basis to maintain optimum health. Getting the sleep you need promotes productivity, deters weight gain, reduces your risk for heart disease and depression and boosts your immune system, among a number of other benefits (via Medical News Today).
However, not everyone is able to get the amount of sleep they need. According to the American Sleep Apnea Association, between 50 and 70 million Americans are estimated to have difficulty sleeping on a consistent basis, with approximately 10% of the people in this range suffering from chronic insomnia.
The Mayo Clinic defines insomnia as "a common sleep disorder that can make it hard to fall asleep, hard to stay asleep, or cause you to wake up too early and not be able to get back to sleep." Besides being unable to sleep at night, symptoms of insomnia can also include irritability, depression, trouble concentrating and frequent accidents or errors, among other issues. While optimal sleep will vary based on a variety of factors, experts generally agree that between seven and eight hours a night is essential for most adults.
Which CBD brand is best for insomnia?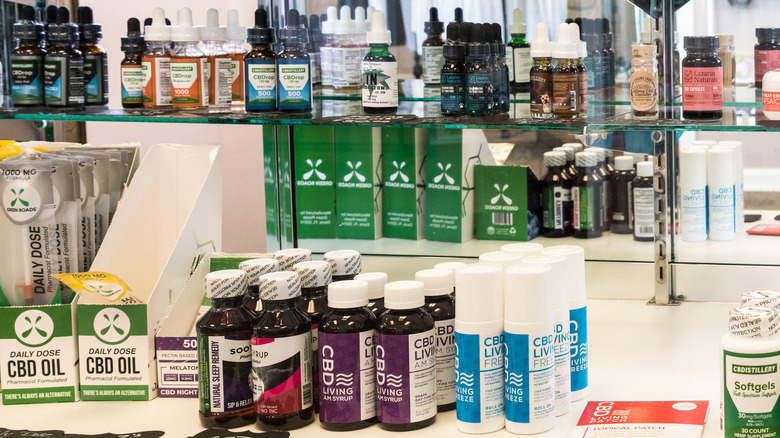 Kimberly Boyles/Shutterstock
In 2018, hemp (scientifically known as cannabis sativa, containing a number of chemicals), was removed from the Controlled Substances Act as a result of the Farm Bill. Since that time, a broad market has launched promoting CBD products made from the plant, that claim to promote wellness across the health and beauty spectrum (via U.S. Food and Drug Administration (FDA).
With regard to CBD being an effective approach to addressing insomnia, more research is needed, however, Sleep Foundation points out that preliminary research showing that CBD reduces anxiety is promising, as it relates to CBD's potential to help with anxiety and its influence on insomnia. More studies are currently underway that will hopefully provide more conclusive insights.
If you are suffering from insomnia and want to give CBD products a try, Healthline suggests a number of companies that they feel are safe and effective based on criteria, such as a certificate of analysis — which proves the product was tested in an approved lab — that the product is derived from American-grown hemp and that the product contains less than 3% or less of THC, the chemical in marijuana that causes the "high."
Even with these endorsements, however, the experts at Healthline strongly advise that you consult with your doctor first before trying CBD products for insomnia or any other health issues.