This Is What A Chiropractor Can And Can't Do For You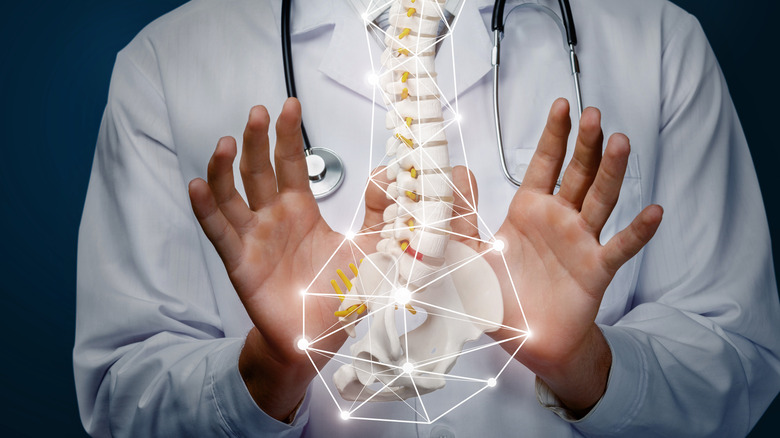 Natali _ Mis/Shutterstock
If you've never visited a chiropractor before, you might wonder what they actually do. Are they sort of like regular doctors, more like physical therapists, or is it all really just quack medicine?
Licensed chiropractors (which are the only kind you should let within 10 feet of your spine) undergo rigorous training which is similar to traditional medical school, but with a different emphasis in coursework. Josh Axe, DNM, DC, CNS, and founder of Ancient Nutrition, explained to Well + Good, "Medical doctors spend more time studying microbiology and medicine whereas chiropractors spend more time studying anatomy and nutrition."
Would-be chiropractors first complete an undergraduate degree, and then spend four years in chiropractic college, earning a Doctor of Chiropractic degree, followed by passing the National Board of Chiropractic Examiners exam. They then work in residencies lasting two to three years. Coursework and training focus heavily on the musculoskeletal system, especially the spine and its connection to general health.
Chiropractors can help with musculoskeletal problems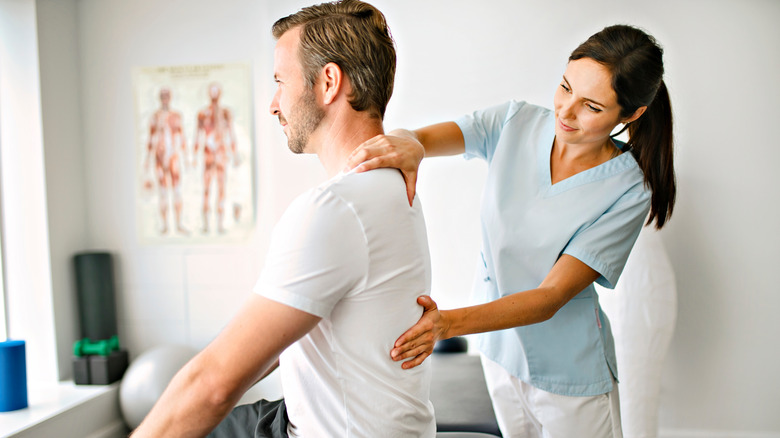 Lopolo/Shutterstock
Chiropractors can't prescribe medications or do surgeries, but they can help with a wide variety of issues involving the muscles, bones, joints, and nervous system. They commonly treat lower back pain, neck pain, sports injuries, and headaches. They take a holistic approach to healthcare, using soft-tissue therapy, adjustments, exercises, and stretches, as well as kinesio/joint taping (via Cleveland Clinic). They can also recommend diet and lifestyle changes. Greg Barnes, DC, adds "Here, we take a whole-body approach to make someone well. We're primary care providers and want to treat the whole person" (via Well + Good). Chiropractors can also refer patients to other healthcare specialists.
Think of chiropractic care as the musculoskeletal complement to other medical specialties. If you're suffering from back pain, migraines, or what you think might be a pinched nerve or pulled muscle, a chiropractor can likely help. But for other serious problems, make an appointment with your regular M.D. Lanay M. Mudd, Ph.D., of the National Center for Complementary and Integrative Health, told Men's Health, "Serious diseases such as cancer should not be treated with chiropractic care. While people with cancer may look to chiropractic care to relieve symptoms associated with the disease, it is not a treatment for the disease."