Colin Powell's Cause Of Death Explained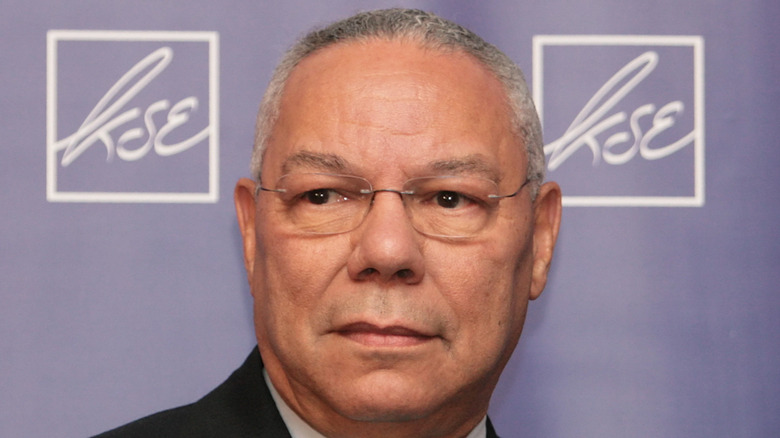 Alexsander Lepetukha/Shutterstock
Tributes from around the world continue to pour in as leaders react to the death of military leader Colin Powell. Powell was a true trailblazer with a distinguished military and political career. It took him from combat duty in Vietnam up through the ranks of the military to become a four-star army general. He became the first Black National Security Advisor under then-President Ronald Reagan, as well as the first and youngest African-American chairman of the Joint Chiefs of Staff under President George H.W. Bush. He rose to fame for his prominent involvement in the U.S.-led war against Iraq during the 1991 Gulf War (via People).
Powell died from complications arising from COVID-19. A post written by his family on Facebook read, "General Colin L. Powell, former U.S. Secretary of State and Chairman of the Joint Chiefs of Staff, passed away this morning due to complications from Covid 19. He was fully vaccinated. We have lost a remarkable and loving husband, father, grandfather and a great American." The family noted that he was 84 years old.
Powell was a renowned military leader and statesman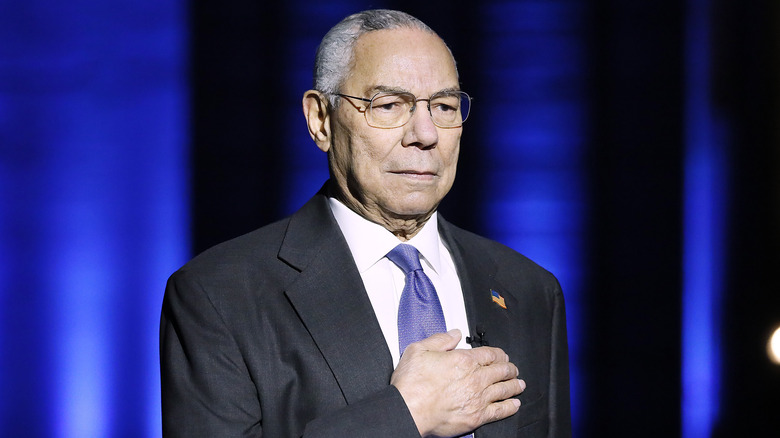 Paul Morigi/Getty Images
Although we don't know exactly which COVID-19-related complications ultimately led to Powell's death, we do know that complications are fairly common. According to WebMD, approximately 1 in 6 people who become infected with COVID-19 will have complications, some of which may be life-threatening. Among the most common complications are serious lung-related problems, including severe pneumonia, acute respiratory distress syndrome (ARDS), and acute respiratory failure. Acute liver and cardiac injury, sepsis, kidney infection, blood clotting issues, and chronic fatigue can also occur. Still, others become COVID-19 "long-haulers," with symptoms lingering on for months. Underlying conditions, such as diabetes, often make things worse.
"Some of the most common complications from COVID-19 that people with diabetes are experiencing include pneumonia, respiratory failure, and septic shock," endocrinologist Dr. Minisha Sood told HealthiNation.
Regardless of what COVID-19-related complication Powell had, he will be sorely missed by many. "The world lost one of the greatest leaders that we have ever witnessed," said Defense Secretary Lloyd Austin (via CSPAN). "Alma lost a great husband, and the family lost a tremendous father. And I lost a tremendous personal friend and mentor."