This Is How Much Sugar Is Hiding In Your Ketchup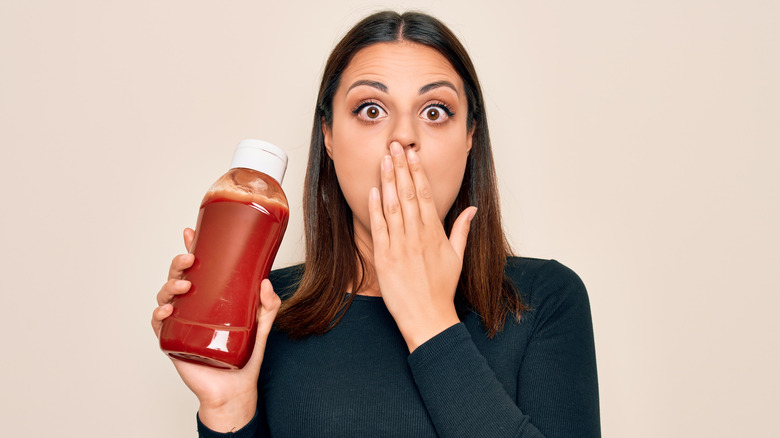 Krakenimages.com/Shutterstock
If ketchup ranks as one of your top condiments to pour on a hamburger, drizzle over a pile of french fries, or squeeze on scrambled eggs, you're not alone. According to Statista, over 308 million Americans consumed ketchup in 2020.
That statistic makes sense, as ketchup is often described as an all-American condiment. Despite this designation and the fact that 97% of American homes have a bottle of ketchup in the cupboard — ketchup did not originate in the United States (via The History Channel). The ancestor of what we know as ketchup started out in a completely different form, country, and millennium. You need to go to China as far back as 300 B.C. to find the original version of modern-day ketchup.
China's favorite ketchup in 300 B.C. was a ​​fermented fish sauce made from fish entrails, meat byproducts, and soybeans — and was totally tomato-free. This paste, which was pronounced "ge-thcup" or "koe-cheup," made its way to trade routes and, eventually, over to Great Britain in the early part of the 18th century, where the recipe was altered. Heinz ketchup eventually came into being in the early 1800s with a tomato-based recipe that, among other ingredients, included brown sugar (via The History Channel).
The not so sweet facts about ketchup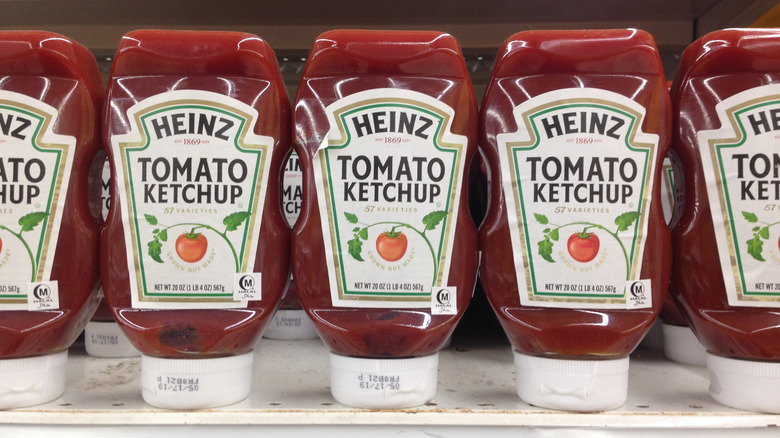 Mohd Kamarul Hafiz/Shutterstock
A tablespoon of traditional ketchup is only 15 calories and is a good no-fat option compared to another popular condiment, mayonnaise, which contains as much as 103 calories and 12 grams of fat per tablespoon. However, ketchup contains 4 grams of sugar in that same tablespoon. Most of this sugar is added sugar (via Food Network). While 4 grams doesn't seem like a lot, the sugar count can add up easily when you mindlessly squirt tablespoon after tablespoon onto your curly fries.
According to the Harvard T.H. Chan School of Public Health, we are not supposed to consume more than 24-36 grams of sugar a day. Yet, the average American consumes 88 grams of added sugar each day, and these added sugars have no nutritional value.
If using ketchup in moderation is a challenge for you, it may be time to take a closer look at the labels. While your classic Heinz ketchup contains high fructose corn syrup, Heinz also has a Tomato Ketchup with No Sugar Added and a Simply Tomato Ketchup that do not have any added sweeteners. If you aren't a Heinz loyalist, dietitian Megan Wong tells Eat This Not That that True Made Foods Veggie Ketchup wins the healthiest ketchup award in her book. "Rather than using sugar, this ketchup is sweetened with fruits and vegetables — apples, butternut squash, and carrots — meaning only 2 grams of naturally occurring sugars per tablespoon, and 0 grams of added sugars!" Wong said.