Are Crocs Good For Your Feet?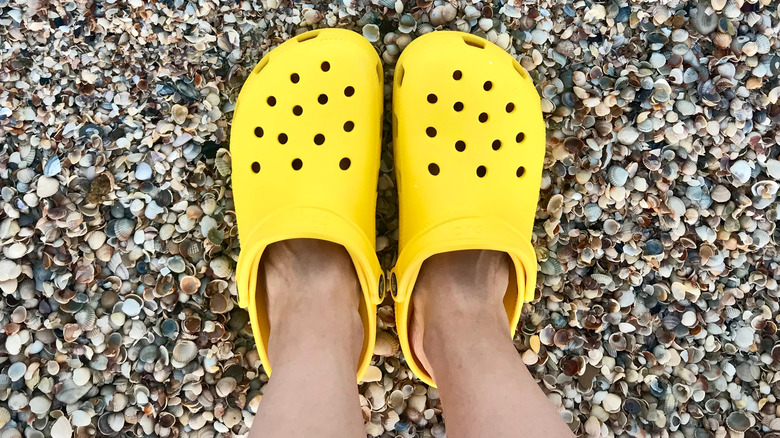 Nice She/Shutterstock
Chances are, you own a pair of Crocs or know someone who does. The footwear company, which shot to stardom in 2007, has sold a staggering 600 million pairs of shoes around the world as of 2020 (via Forbes). The COVID-19 shift toward working from home boosted the company's sales in 2020 in a big way, as many of us swapped our "business" wear for around-the-house comfort.
Crocs were originally designed as a boating shoe, with their non-slip soles and waterproof, lightweight, foamy material. They're great for an afternoon at the beach, pool, or waterpark. However, Crocs can now be spotted practically everywhere — including hospitals, playgrounds, and shopping malls. The reasons are obvious, as any devoted Crocs fan can tell you: they're super comfortable, lightweight, and easy to slip in and out of. However, you might be wondering if you're really supposed to be wearing Crocs all of the time.
Podiatrists don't recommend Crocs for long-term wear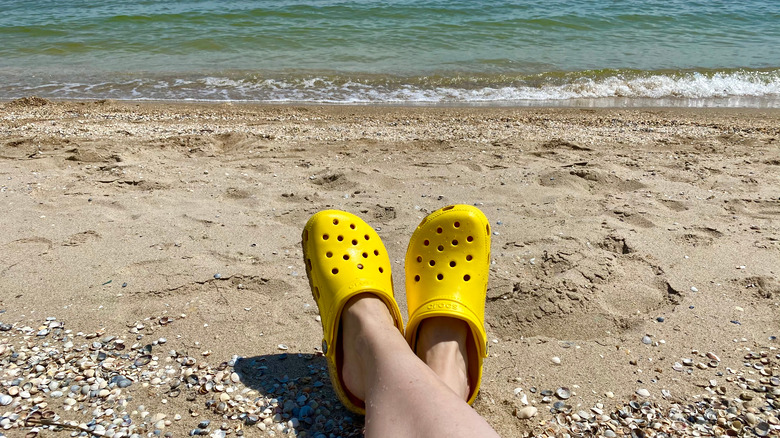 Nice She/Shutterstock
Podiatrists generally recommend Crocs for short-term wear, but not for hours at a time. "Unfortunately Crocs are not suitable for all-day use," Dr. Megan Leahy, a Chicago-based podiatrist with the Illinois Bone and Joint Institute, told the HuffPost. "These shoes do not adequately secure the heel. When the heel is unstable, toes tend to grip which can lead to tendinitis, worsening of toe deformities, nail problems, corns and calluses. The same thing can happen with flip flops or any backless shoes as the heel is not secured."
The exception is a special line of Crocs, designed specifically for medical professionals, called Crocs Rx. They're made with better materials and more support. "These shoes were designed specifically to eliminate plantar pain and achy feet," Lyndon V. Hanson, III, co-founder and vice president of Crocs, told WebMD. "They also help people with injured feet, bunions, and diabetes. You've got a lot of inner support, heel cups and massaging heel nubs, and arch support. They're ideal for people with foot problems."
If you love your Crocs, there's no reason to stop wearing them around the house or to the beach. "It's a good shoe for going to the beach, kicking around the house, going to the corner market, but they're not made to be worn at Disneyland all day long," Dr. Bob Baravarian, chief of foot and ankle surgery at Santa Monica UCLA Medical Center, told WebMD.