Are 2-In-1 Shampoo And Conditioners Bad For Your Hair?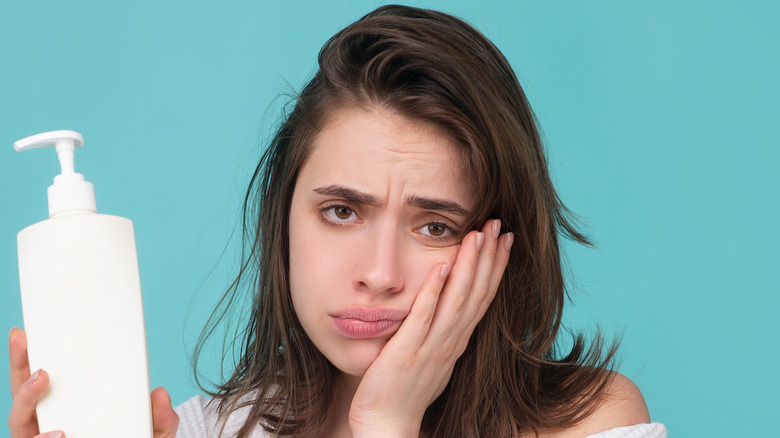 Shutterstock
Wash, dry, style, and repeat. This is the cycle of "healthy" hair maintenance. It seems pretty straightforward, but a walk down any drugstore hair aisle can be quite overwhelming. Shampoos, conditioners, hair masks, gels, mousse, hair sprays — the list of products goes on and on. In the hustle and bustle of the 21st century, people are always looking for ways to maximize their time and "hack" life. Enter 2-in-1 shampoo and conditioner. These combo products claim to clean and condition hair all at once, saving you a few minutes in the shower each time (via Allure). But are they actually good for your hair health, or are they doing more damage? 
In order to achieve and maintain healthy hair, the American Academy of Dermatology Association recommends concentrating shampoo on the scalp, and then using a conditioner after every shampoo, focusing on the tips of the hair rather than the roots. While 2-in-1 products can save you both time and money, they are not the easiest products to formulate. In essence, they are two opposite products being combined into one.
Kelly Dobos, a cosmetic chemist, discussed with Allure the difficulty that comes with developing such products saying, "Trying to combine these two incompatible types of ingredients in one formula can result in a gunky, unpleasant product." This has led the beauty industry to invest significant money and time into proper formulation. Dobos went on to say that chemists "have developed unique ways to deliver conditioning ingredients from shampoos by optimizing ratios of these ingredients, or 'hiding' the conditioning agents and polymers in an emulsion that releases those ingredients when rinsing."
It can lead to product buildup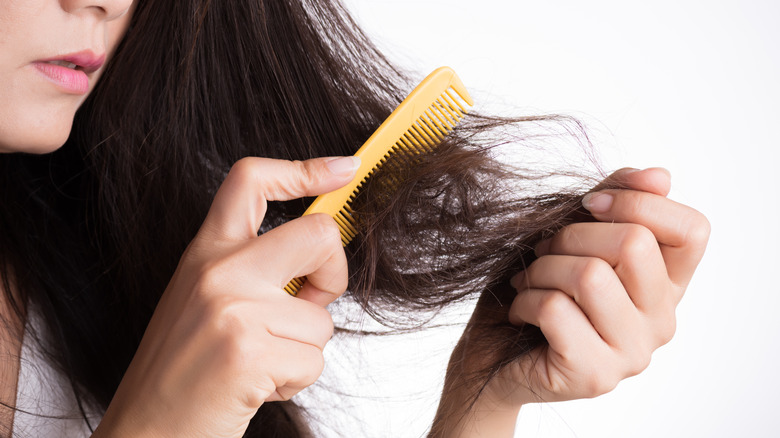 Siam Pukkato/Shutterstock
Since both the shampoo and conditioning ingredients aren't as effective together as they are individually, you may notice some differences in your hair with chronic use. The biggest downside to using these 2-in-1 products is that they may lead to your mane becoming dull and flat, which is a result of product buildup. That buildup is usually due to the silicone ingredients. However, not all silicones are created equal.
"Good silicones," such as dimethicone copolyol, stearoxy dimethicone, and behenoxy dimethicone, gently coat each strand of hair, locking in moisture and protecting your mane from heat damage and pesky frizz (via Real Simple). These silicones are water-soluble, meaning they won't weigh your hair down or cause buildup. "Bad silicones," on the other hand, like dimethicone, cetyl dimethicone, and cyclomethicone, still coat and protect your hair, but they do so at a cost. Over time they weigh hair down with buildup.
Hairstylist Angela Cardona told Real Simple, "Occasionally alternating to a clarifying or exfoliating shampoo rather than a conditioning shampoo will let you reap all the benefits of silicones without the unwanted buildup." So if you were thinking a 2-in-1 product would mean no other hair care products cluttering your shower caddy, think again.