The Real Reason Rainstorms Can Trigger Asthma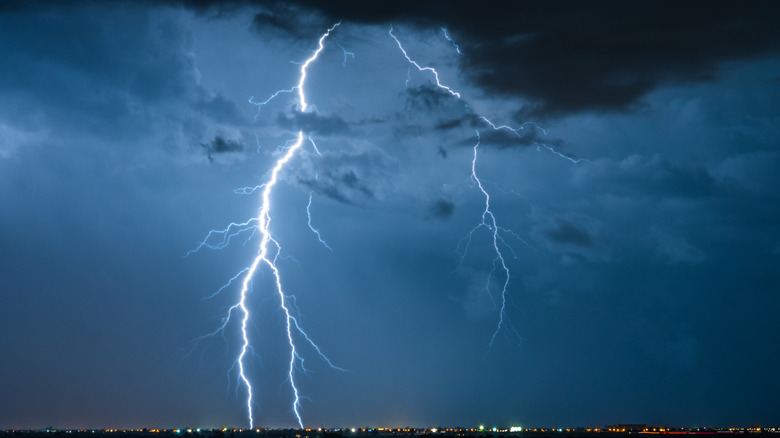 Pau Buera/Shutterstock
Believe it or not, rainstorms and thunderstorms can actually trigger and worsen asthma attacks. That's because the wind and rain can hit the ground and break down clumps of pollen into smaller particles, which can then get dispersed into the air (via Health). As a result, these tiny pollen particles can get directly into your nose and lungs, setting off your symptoms and causing an asthma attack.
According to Dr. Clifford W. Bassett, the founder and medical director of Allergy and Asthma Care of New York, this is known as thunderstorm asthma. "Allergy-inducing grass grain particles get swept up into the air and break down, releasing pollen that can cause an asthma attack," Dr. Bassett told Health. For those who are genetically predisposed to asthma, this can cause a severe reaction, even if they've never had an asthma attack before. At least one-third of the patients involved in a thunderstorm asthma epidemic in Melbourne, Australia in 2016 said they had never experienced an asthma attack before that event. 
How to prepare for thunderstorm asthma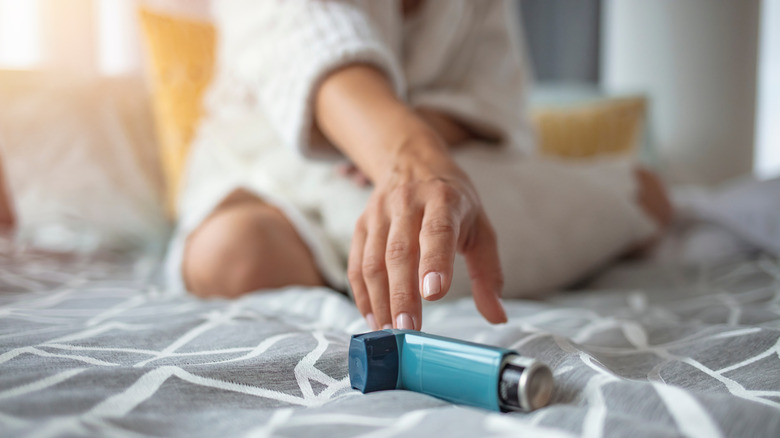 Dragana Gordic/Shutterstock
Although thunderstorm asthma attacks are a relatively rare phenomenon, scientists believe that they may become more common with climate change. That's why it's important to have a thunderstorm plan in place (via Healthline). If you have asthma or even mild allergies, you should prepare for a potential rainstorm or thunderstorm by taking the necessary precautions and preventative measures to help prevent yourself from experiencing an asthma attack or any type of respiratory distress.
"If people know they have asthma then they should heed their doctors' advice and use their preventative medications that have been prescribed," Dr. Janet Davies, the head of the Allergy Research group at the Queensland University of Technology in Brisbane, told Healthline. "Even if a patient considers they have mild asthma they should ensure that it is well managed and that they have an asthma action plan." People with seasonal allergies, on the other hand, should prepare by using nasal sprays or taking over-the-counter antihistamines.