Is The Omicron Variant Of COVID-19 More Contagious?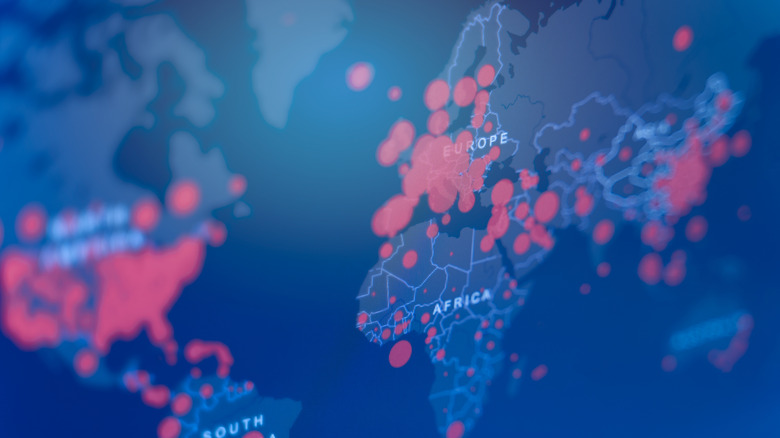 ETAJOE/Shutterstock
For months, the world has been in the throes of the Delta variant, which took the United States by storm in the summer despite record-low COVID-19 cases in early June. Part of this is because the Delta variant is so contagious compared to previous variants. Specifically, researchers at the Columbia University Mailman School of Public Health found that the Delta variant is 10 to 20% more transmissible than the Alpha variant and 60% more transmissible than the original virus. With this in mind, it is no surprise that the Delta variant outpaced other variants and quickly became the dominant strain of the virus in many countries (per CoVariants).
Enter the new Omicron variant, which was first discovered in South Africa and classified as a variant of concern on November 26, 2021 (via World Health Organization). Not long after this variant was discovered, COVID-19 test positivity rates in the Gauteng region of South Africa spiked from 1% to 30% in a single week, according to epidemiologist Katelyn Jetelina (via Your Local Epidemiologist). In fact, new COVID-19 cases are rising exponentially in South Africa as a whole. While it is unknown if this is solely due to the Omicron variant, the timing "is suspect," according to Jetelina.
It may be significantly more contagious, but additional research is needed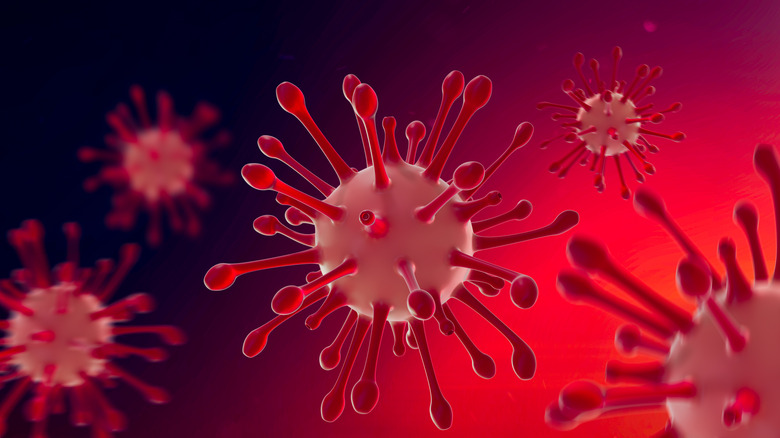 MIA Studio/Shutterstock
Just glancing at the numbers, it's easy to assume we now have an even more contagious variant than Delta on our hands. According to John Burn-Murdoch, chief data reporter at Financial Times, the Omicron variant does seem to be spreading much more quickly than previous variants, including Delta (via Financial Times). In fact, epidemiologist Eric Feigl-Ding reports that the Omicron variant may be as much as 500% more infectious than the original strain of COVID-19 (via Twitter).
That being said, research is still in the very early stages, and it will be at least a couple of weeks before we know much about the variant for certain. While the World Health Organization (WHO) warns that the Omicron variant poses a "very high" global risk, especially for communities with low vaccination rates, it is quick to emphasize that there are "considerable uncertainties" (per Reuters). To reduce your risk of catching the Omicron variant or COVID-19 in general, the WHO recommends getting vaccinated, physical distancing, wearing well-fitted masks, avoiding crowded spaces, and washing your hands.