Why You Shouldn't Worry If You Test Positive For The Omicron Variant And Are Fully Vaccinated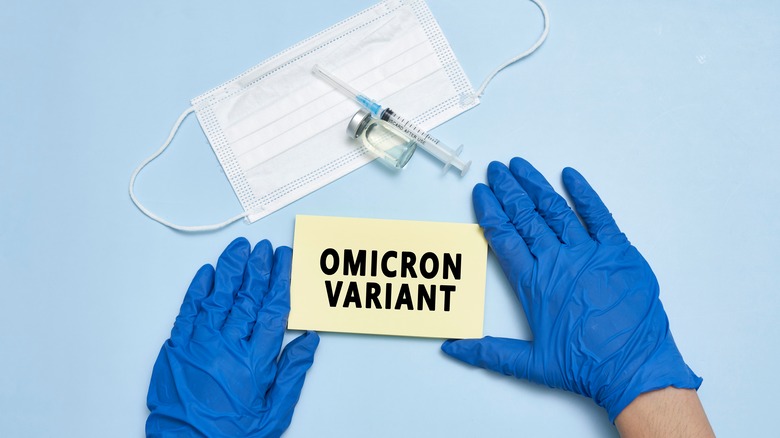 G.Tbov/Shutterstock
In late November 2021, the World Health Organization named the COVID-19 omicron virus a variant of concern, and the first case in the United States was reported on December 1, 2021 (via CDC). Since then, it has appeared in nearly all 50 states and seems to be spreading quickly. However, the delta variant is still the primary variant in the United States, even though the omicron variant has been discussed more recently (via CDC).
Dr. Ashish Jha, dean at the Brown University School of Public Health, said on Today that the omicron variant is spreading faster than anyone expected, as omicron cases are doubling about every two days. As a result, he expects the omicron variant to be the dominant COVID-19 variant in the United States by January.
Dr. Vin Gupta, an NBC News medical contributor, told Today hosts that he and his colleagues are expecting about 10,000 deaths every week for unvaccinated people, which may continue into March 2022. People who are not vaccinated against COVID-19 are at high risk of getting infected and possibly hospitalized (via CDC). So what happens if you test positive for the omicron variant if you're fully vaccinated?
Omicron breakthrough infections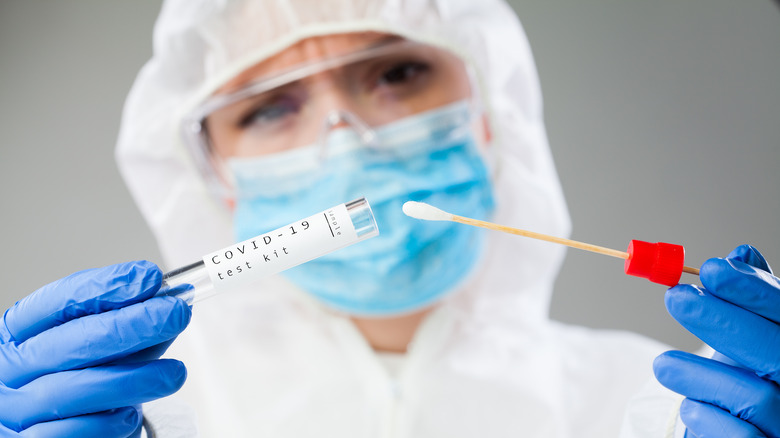 Cryptographer/Shutterstock
"We have to get comfortable with fully vaccinated folks testing positive; that's going to be our new normal," Dr. Gupta told Today. He further advises that you shouldn't worry about testing positive because the COVID-19 vaccinations aren't to prevent a positive test result or an infection from the omicron variant. They are to keep you from having to be in the hospital, and the vaccines are doing just that. Vaccines are not 100% effective at preventing infections, but they keep you from getting severe COVID-19 symptoms that lead to hospitalizations or death (via CDC).
There will be breakthrough infections — when those who are vaccinated test positive — for the omicron variant, but if you're fully vaccinated, you'll likely get mild symptoms or none. Dr. Gupta says you can get together with family and friends this holiday season if you are all fully vaccinated. That will likely change to getting three doses of the vaccine soon, and he recommends you get a booster shot, even if it's right before a holiday gathering. It will take two weeks for a full effect, but you'll get benefits right away.