The US Army's Reported COVID-19 Vaccine Could Be A Game Changer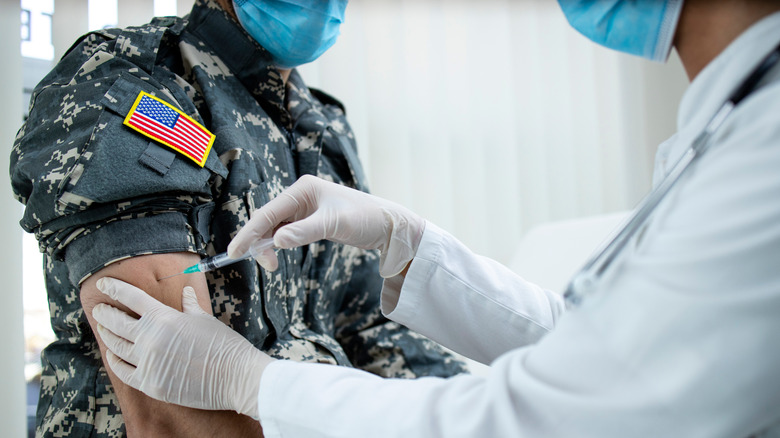 Aleksandar Malivuk/Shutterstock
The U.S. Army has developed a COVID-19 vaccine that is effective against all variants of the virus, including Omicron and any potential variants that may emerge in the future (via Defense One). Scientists at the Walter Reed Army Institute of Research have been working on the vaccine for nearly two years and are expected to announce the efficacy of the shot in just a few weeks. Unlike other COVID-19 vaccines, however, Walter Reed's Spike Ferritin Nanoparticle (SpFN) vaccine uses a protein with 24 faces, allowing scientists to attach the spikes of multiple variants on different faces of the protein.
According to Dr. Kayvon Modjarrad, the director of Walter Reed's infectious diseases branch, the SpFN vaccine yielded positive results during Phase 1 of the clinical trials and is now ready to proceed to trials in Phases 2 and 3. "We need to evaluate it in the real-world setting and try to understand how does the vaccine perform in much larger numbers of individuals who have already been vaccinated with something else initially ... or [have] already been sick," Modjarrad told Defense One.
The Omicron variant is spreading rapidly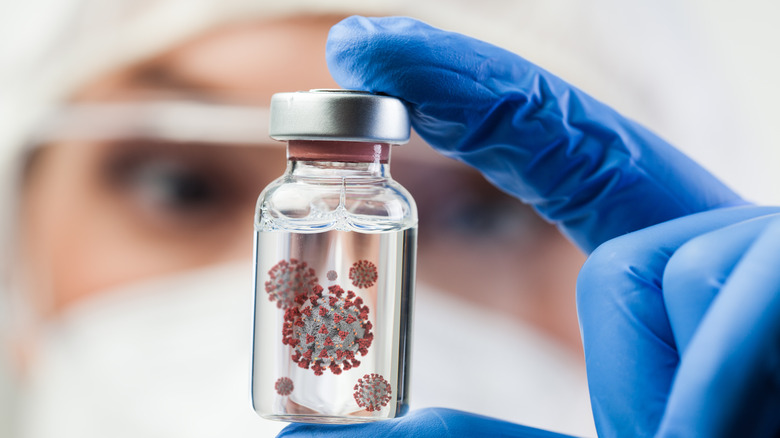 Cryptographer/Shutterstock
News of the pan-coronavirus vaccine comes as the Omicron variant of COVID-19 continues to surge across the U.S., emphasizing the importance of getting vaccinated and receiving a booster shot (via The Hill). According to White House Medical Adviser Dr. Anthony Fauci, the rate at which Omicron is spreading is "truly unprecedented."
"It's a doubling time of two to three days, closer to two days," Fauci told ABC's Good Morning America on Tuesday, December 21, 2021. "Which means that if you start off with a few percentage of the isolates being Omicron, and you do the math and double that every couple of days, it's not surprising that just a week or two ago we had only 8% to 10%, and now we have 73% of all the isolates are Omicron."
Although the primary vaccine series may have waned in effectiveness with the emergence of the Omicron variant, booster shots appear to provide substantial protection against the new strain (via Forbes). Despite this success, vaccine manufacturers like Moderna are still working on a vaccine that would specifically target the Omicron variant. However, such a vaccine would no longer be necessary if Walter Reed's SpFN vaccine proves effective, as reported by Forbes.