Do You Need To Wait To Get The Booster Shot After Having COVID-19?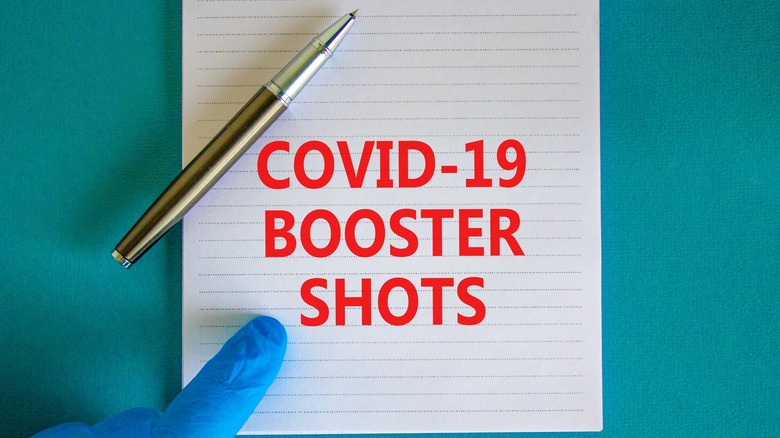 Dmitry Demidovich/Shutterstock
COVID-19 vaccines are available from Pfizer-BioNTech, Moderna, and Johnson & Johnson. All three vaccine makers have developed a booster shot to help boost the immune system. According to the Centers for Disease Control and Prevention (CDC), the vaccines can become less effective after some time, especially in people over age 65, prompting the need for a booster dose. The vaccines are still effective at preventing severe disease but less so at preventing mild symptoms. Booster doses are available to anyone 16 and older who has completed a primary vaccination series — two doses of the mRNA vaccines from Pfizer-BioNTech or Moderna or one dose of Johnson & Johnson. The goal of the booster dose is to increase the effectiveness of the vaccines when it starts to become weaker after some time. 
People 18 and older can get a booster dose from the same maker as their primary vaccine or a different one, known as mixing and matching. For example, if you received two doses of the Moderna vaccine, you can get your booster shot from Moderna, Pfizer, or Johnson & Johnson. In addition, people 16 and 17 can get a Pfizer-BioNTech booster dose. You do have to wait some time after getting vaccinated to get your booster shot — and if you have a COVID-19 infection, you will need to wait a bit, too.
Booster timeline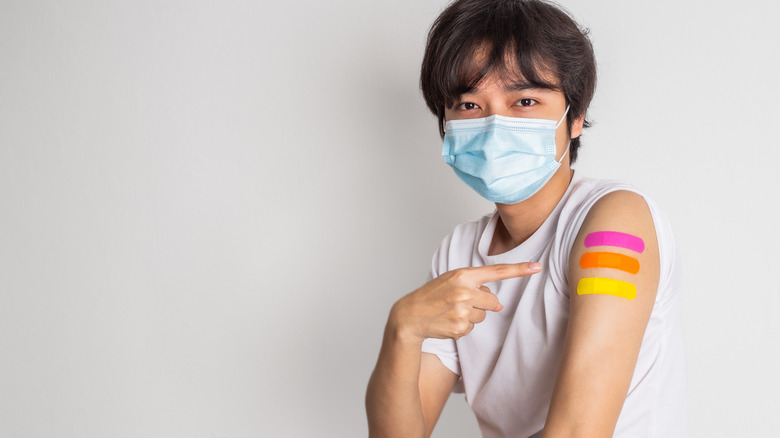 KT Stock photos/Shutterstock
You have to wait at least two months after your Johnson & Johnson vaccination and six months after your second dose of Pfizer-BioNTech or Moderna to get your booster shot, per the CDC. You can make your appointment for a booster dose with the same provider who gave you the vaccination series shots. Be prepared for your appointment by bringing your vaccination card with you so the provider can fill in your information. You might experience some common side effects, and that's normal. Try scheduling your vaccination before you have a couple of days off of work, like on a Friday, for example, if you have the weekends off.
If you currently have COVID-19, you will have to wait for your booster shot. Houston Methodist Leading Medicine recommends waiting four weeks after you've been infected to get your booster shot, or three months if you received monoclonal antibodies to treat COVID-19. However, don't forget about the time from your second dose of an mRNA vaccine or your only dose from Johnson & Johnson. You still need to be eligible for a booster dose. For example, suppose you get a breakthrough infection two weeks after getting your second vaccine with Pfizer-BioNTech. In that case, you will need to wait longer than four weeks for your booster shot because you're not eligible for the booster until six months have passed since your second shot.