What Using Argan Oil Every Day Does To Your Hair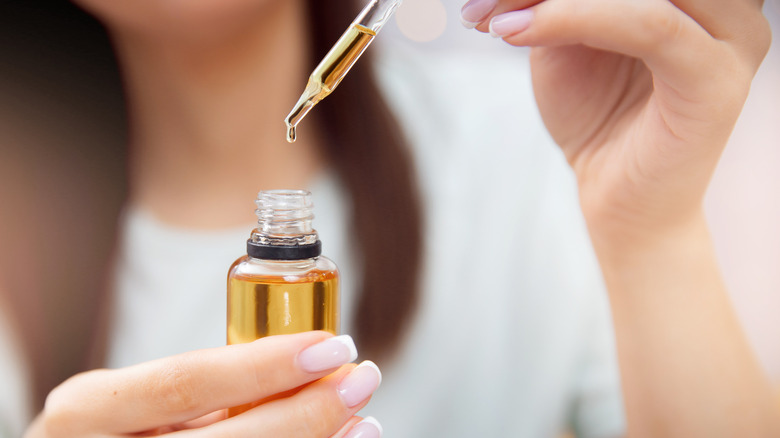 Parilov/Shutterstock
Argan oil is a natural plant oil extracted from the kernels inside the argan tree's fruit. Native to Morrocco, argan oil is made by peeling back the flesh of the argan fruit and cracking the pit inside of it, which contains oil-rich kernels (via Prevention). These kernels are then removed, ground into a paste, and pressed to release the oil inside them, which has a nutty aroma and a golden-brown hue.
This nourishing oil is full of fatty acids that our bodies can't produce on their own, such as omega-3s. These fatty acids benefit both our hair and skin. As a result, argan oil is frequently found in many skincare and hair care products. "Pure argan oil is great for patches of skin affected by psoriasis," Stacy Chimento, board-certified dermatologist, told Allure. "You can also use argan oil alone or with your favorite face cream," she said. 
But what exactly can argan oil do to promote hair health?
How argan oil helps hydrate and revitalize lackluster hair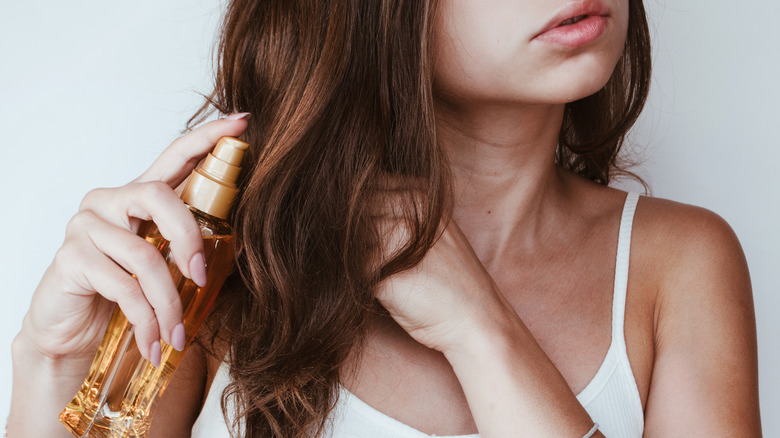 ECOSY/Shutterstock
As it turns out, there are several ways argan oil can improve the texture and quality of your hair (via Byrdie). Much like its effects on the skin, argan oil can help hydrate and revitalize dry and dull hair. Using it regularly can even help prevent breakage. That's because argan oil is rich in many nourishing and beneficial nutrients.
"With its high content of antioxidants, essential fatty acids, and vitamin E, the benefits of argan oil naturally help to increase hair's elasticity and consistently restore shine to dull, lifeless hair," Kevin Hughes, celebrity hairstylist, told Byrdie. He said, "Vitamin E — which argan oil is high in — helps keep your follicles free from damage, all while helping to prevent splitting and breakage."
While argan oil can be used on most hair types, not everyone should apply the same kind or amount, according to Byrdie. If you have thick or curly hair, you can use pure or full-strength argan oil. However, if you have fine or oily hair, you might want to use more lightweight versions. For best results, always apply a small amount focusing on the ends.