Are Raisins Good For You?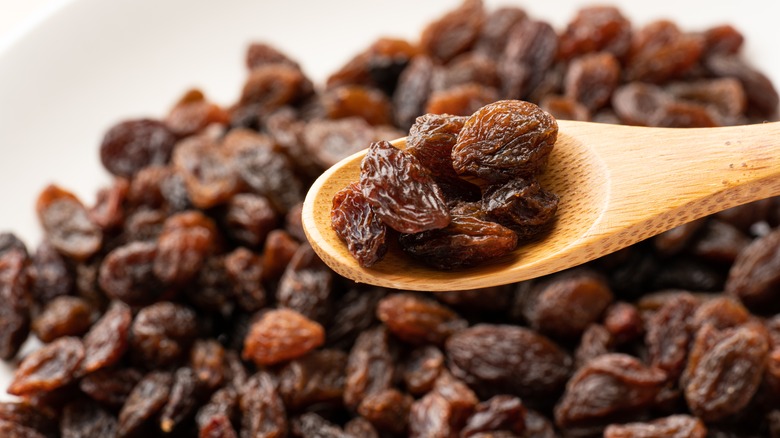 Hanasaki/Shutterstock
You might remember eating raisins as a snack when you were a kid, but there is no reason why you should not be enjoying them as an adult. Packed with flavor and natural sugars, raisins are a healthy choice when you're craving something sweet. Because they are dried fruit, they are calorie dense — which is something to consider if you're trying to lose weight. A ½ cup serving of raisins has about 217 calories and 47 grams of sugar, so they are not considered a low-calorie option (via Healthline). 
That said, raisins contain plenty of nutrients. They are rich in iron, which is necessary for red blood cells to deliver oxygen to the rest of your body. They also contain calcium and boron, two minerals that help build strong bones. The phytonutrients in raisins are antioxidants, meaning they can help your cells fight free radical damage that can lead to heart disease and stroke, per Healthline.
Additional health benefits of raisins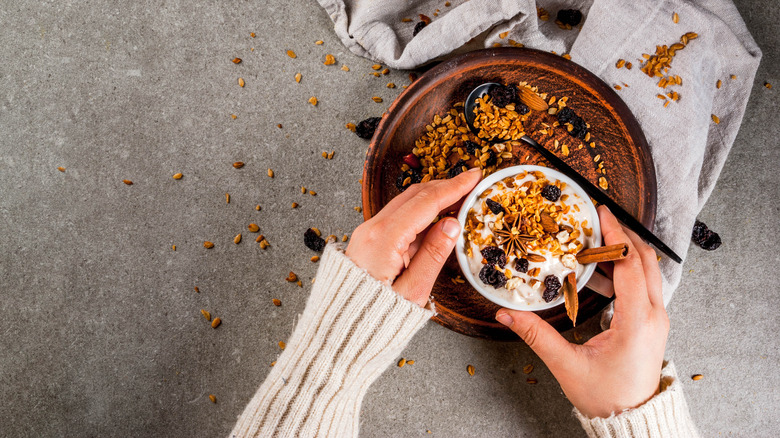 Rimma Bondarenko/Shutterstock
Along with several nutrients, raisins offer several impressive health rewards. For one, they contain fiber, which is necessary for a healthy digestive tract. Fiber can also help lower your cholesterol, according to Healthline. In addition, research published in 2012 by the American College of Cardiology showed that regular consumption of raisins "significantly reduced" blood pressure. Dr. Harold Bays, medical director and president of Louisville Metabolic and Atherosclerosis Research Center, linked the findings to potassium, which is known to lower blood pressure, and fiber. The fiber in them "may favorably alter the biochemistry of blood vessels, causing them to be less stiff, which in turn, may reduce blood pressure," he said.
Raisins might also help reduce the risk for some cancers. Research from a 2020 review published in Advances in Nutrition showed that "​​higher intake of raisins and other dried fruits may be important in the prevention of cancers of the digestive system." So, consider eating raisins the next time you're hungry for something sweet.