Surprising Uses For Hand Sanitizer
Maridav/Shutterstock
Using hand sanitizer is a great way to "wash" and disinfect your hands when you do not have access to soap and water (via Insider). However, the product can be used for more than just cleaning your hands. As it turns out, hand sanitizer can have many other surprising uses. That is because hand sanitizer is a safe and effective disinfectant.
Made with ingredients like isopropanol or ethanol, alcohol-based hand sanitizer can kill most potentially harmful germs, viruses, and bacteria — including COVID-19, according to New Jersey's COVID-19 Information Hub. In fact, the only germs that hand sanitizer can't kill are cryptosporidium, norovirus, and clostridium difficile.
Hand sanitizer needs to contain at least 60% alcohol in order to be completely effective; however, hand sanitizers that contain less than 60% alcohol can still help reduce the number of germs and bacteria on any given area, but they won't be completely destroyed.
You can use hand sanitizer for personal hygiene and household cleaning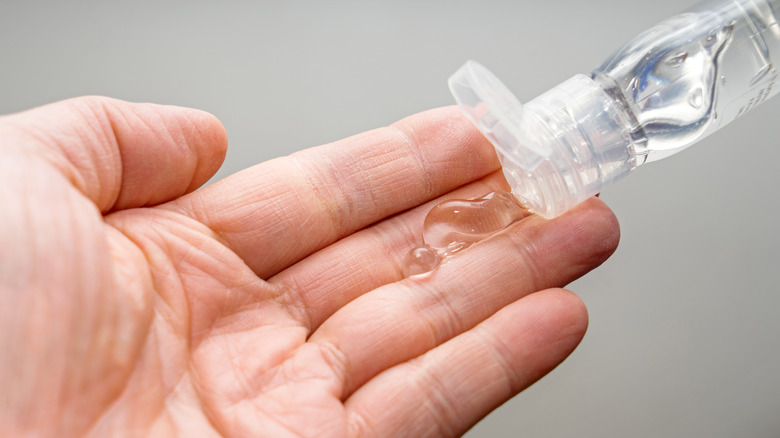 Alex Yeung/Shutterstock
Believe it or not, hand sanitizer can also be used for household cleaning and various aspects of personal hygiene (via HelloGiggles). According to Susan Griffin-Black, the co-founder of EO Products, you can use hand sanitizer to clean glass surfaces. Whether it's a window, phone, or computer screen, hand sanitizer can effectively wipe away any dirt and bacteria without leaving any smudges behind.
You can also use it to clean up household messes. That's because hand sanitizer is great at disinfecting surfaces and getting rid of stains. For instance, if you accidentally spill a cup of coffee on your shirt and don't have any stain removal on hand, you can always use a pump of hand sanitizer to clean your shirt and remove any pesky stains.
Surprisingly enough, it can even be used as deodorant in a pinch. While it's not recommended for everyday use, hand sanitizer can help kill the bacteria on your armpits, which is what causes them to smell in the first place (via Byrdie).