Why A Fourth Vaccine Dose Might Not Be The Solution For The Omicron Surge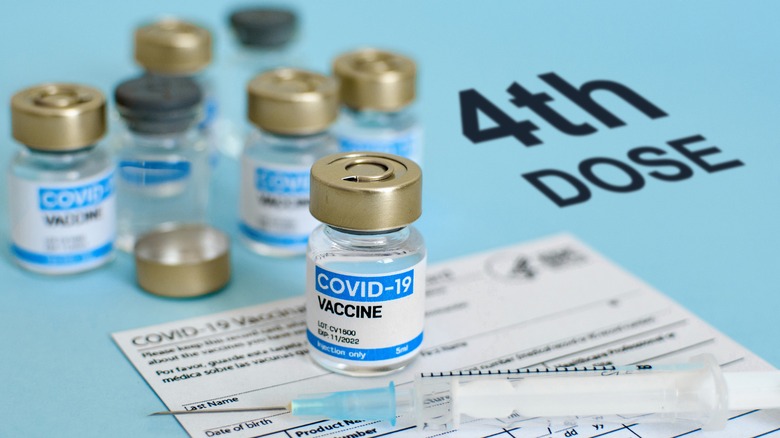 Wirestock Creators/Shutterstock
In October 2021, the U.S. Centers for Disease Control and Prevention (CDC) announced that certain portions of the public receiving Pfizer and Moderna shots to fight COVID-19 may be eligible for a fourth booster shot. Currently, the organization is only recommending the fourth shot for people with moderate or severely compromised immune systems. However, a person who has received 2 doses of the Pfizer and Moderna vaccine or 1 dose of the Johnson & Johnson vaccine is considered fully vaccinated by the CDC.
While a fourth dose has not yet been recommended for the rest of the population, that could change. Robert Murphy, executive director of the Havey Institute for Global Health at Northwestern University Feinberg School of Medicine, told U.S. News and World Report that he thought it was just a "matter of time" before another shot is recommended. The question is if the shot will be specifically designed for variants of the virus.
A fourth vaccine may not protect as well against Omicron
G.Tbov/Shutterstock
A study conducted by the Sheba Medical Center in Israel examined 150 health care workers who received either a fourth Pfizer or Moderna booster in December 2021 (via The Times of Israel). Preliminary results showed that while a fourth shot increased the number of antibodies to fight COVID-19, it did not appear to be enough to resist the Omicron variant. "The bottom line is that the vaccine is excellent against the Alpha and Delta [variants], for Omicron it's not good enough," lead researcher and professor Gili Regev-Yochay told the publication. 
While the results are preliminary, Regev-Yochay told The Times of Israel that she decided to release the data because of public interest. Regev-Yochay added that she would still like to see people who are over 60 and at a higher risk to get the fourth dose.
Although the existing COVID-19 vaccines are proving to be less effective at fighting Omicron, a new vaccine for the variant could be available by March 2022, Pfizer CEO Albert Boula told CNBC.