Dr. Priyanka Wali Explains How Medical School Prepared Her For Stand-Up Comedy – Exclusive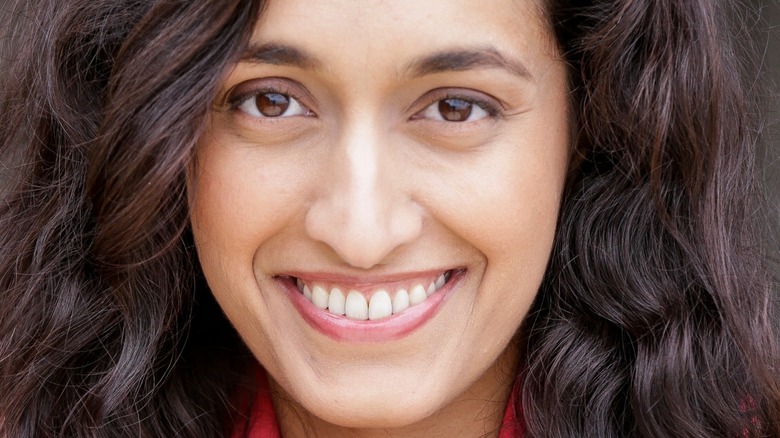 The Lippin Group
Dr. Priyanka Wali, a physician who specializes in holistic internal medicine, takes the phrase "laughter is the best medicine" to a whole new level. When she's not helping her patients find the optimal way to take care of their whole bodies, she's onstage delivering perfectly timed jokes about life as a doctor in a family of doctors. Or, she's recording an episode of "HypochondriActor," a podcast she co-hosts with fellow comedian and actor Sean Hayes of "Will & Grace" fame.
Though doctor and comedian may seem like an odd pairing career-wise, Wali insists that comedy and medicine are the perfect partners. Her adventures and misadventures during her internship, residency, and journey in private practice gave her a lot of good material for her first stand-up routines.
In an exclusive interview with Health Digest, Wali revealed how stand-up comedy came into her life, how being a doctor prepared her for being a comedian, and how her new podcast is blending medicine and comedy in a whole new way.
From medical school to open mic nights
Priyanka Wali never really intended to become a comedian. From the moment she was born, she was on the path to becoming a doctor, just like the majority of her family. Comedy kind of insisted itself upon her.
While processing the grief of a breakup, a small voice in her head told her that she should find a way to make people laugh. Wali had no desire to heed that message. She'd always had an intense fear of performing stand-up, so the idea that doing so would become a major part of her life was almost unfathomable. But the idea wouldn't leave her alone. She started having intense, recurring dreams about performing stand-up. She recalled that she would wake up still hearing the audience's applause in her head and it delighted her. The dreams wouldn't stop, so she decided to try stand-up — mainly just to get the idea out of her head.
Wali did her first set at an open mic in a laundromat, performing while people folded their clothes. As fate would have it, a producer was there. After the set, he invited her to perform in his showcase. And just like that, Wali was a comedian. She went on to tell us that the "grueling hours during residency" were not only the perfect material for her routine, but they were also the perfect preparation for the hours she'd have to spend in tiny comedy clubs and back alley bars perfecting her material.
Blending comedy and medicine
While Priyanka Wali believes that comedy is a great way to process the difficulties of being a doctor, she's also serious when she's with her patients. When she's on stage, however, she can just let loose and make light of difficult situations.
Her latest endeavor in combining comedy and medicine is via the "HypochondriActor" podcast. In each episode, she and Sean Hayes interview a celebrity guest about a medical issue they've encountered. They also dig into medical history and trivia — but in a fun way. Wali said that the goal of the podcast is to deliver medical information in a way that's both accessible and amusing so that people actually want to hear it. And the podcast is certainly achieving that goal.
By mixing comedy into serious medical content, Wali and Hayes are engaging people who otherwise might not get the medical information they need. Wali revealed that she's gotten several notes from listeners who were able to identify their own medical issues because they listened to an episode of "HypochondriActor."
In 2022, the duo will continue to use their comedic talents to inform. They'll interview more celebs, but they'll also be interviewing listeners who've reached out to them about their own medical dramas.
New episodes of "HypochondriActor" are available every Wednesday on Apple Podcasts, Spotify, or wherever you listen to podcasts.