Surprising Side Effects Of Using An Inhaler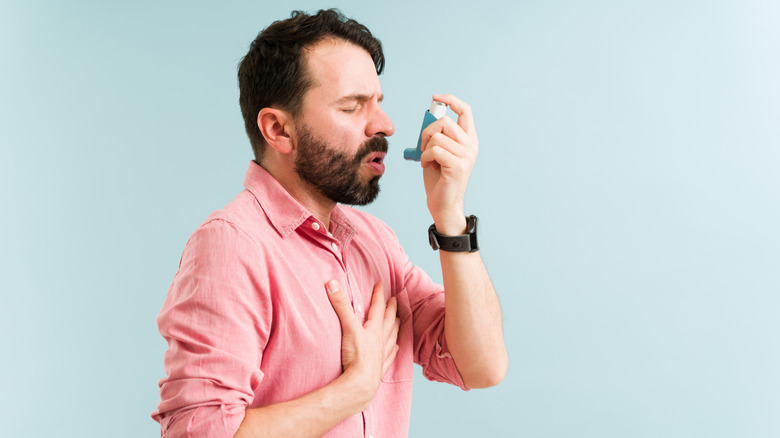 antoniodiaz/Shutterstock
Struggling to breathe, whether from chronic asthma, allergy-induced asthma, or another respiratory problem like COPD, negatively impacts day-to-day activities. Moreover, when you have a hard time breathing, it can be frightening and even potentially life-threatening. For the approximately 25 million adults and children who live with asthma in the United States, having the right medication on hand can make all the difference (via GoodRx Health). And most often, that medication will be administered by an inhaler.
Inhaler devices are especially well-suited for treating asthma symptoms because they deliver medicine directly to the lungs, via the mouth. There are a number of different medicines that can be administered through an inhaler, according to GoodRX Health. Short-acting beta agonists (SABAs), like Albuterol, are used for immediate relief, since they start working in only a few minutes. Long-acting beta agonists (LABAs), like Salmeterol, take a little longer to start working but they last longer. 
Regardless of which type of medicine the inhaler contains, it's likely to work in a similar way — to relax and open up airways that are constricted or inflamed, making it easier to breathe. While asthma medications can help manage symptoms and even be life-saving, they also can come with unexpected side effects.
Inhalers can carry unexpected side effects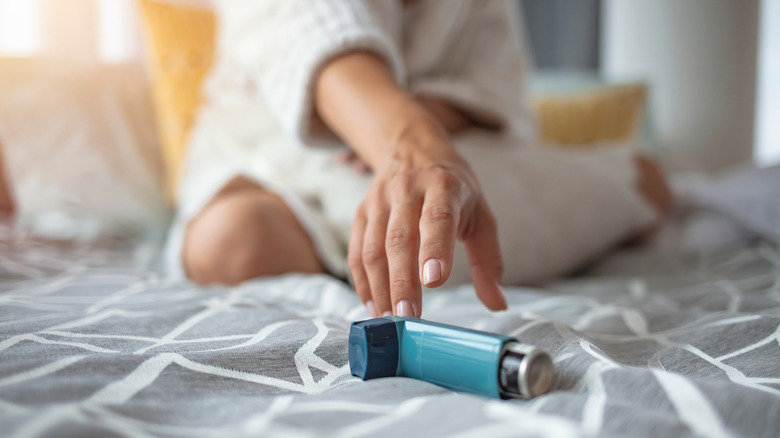 Dragana Gordic/Shutterstock
Inhaled SABAs, LABAs, steroids, and other medications to treat asthma can cause side effects. One common side effect of using steroid-containing inhalers is hoarseness, which can cause changes in the voice. According to ConsumerMedSafety.org, a small amount of an inhaled steroid can be left on the vocal chords, causing irritation, dryness, and swelling. This can result in vocal changes including hoarseness or even, temporarily, a complete loss of voice.
Osteoporosis is another common side effect. Long-term use of high-dose inhaled steroids has been linked to a significantly increased risk of developing weak and brittle bones (via Verywell Health).
Inhalers are a necessary symptom management tool for millions of people who suffer from asthma or other respiratory illnesses. But if these or other negative side effects occur, it's worth talking with your doctor about possibly changing the delivery method or reducing the dose of medication by adding a spacing device to your inhaler.