When You Wear Flip Flops Every Day, This Is What Happens To Your Body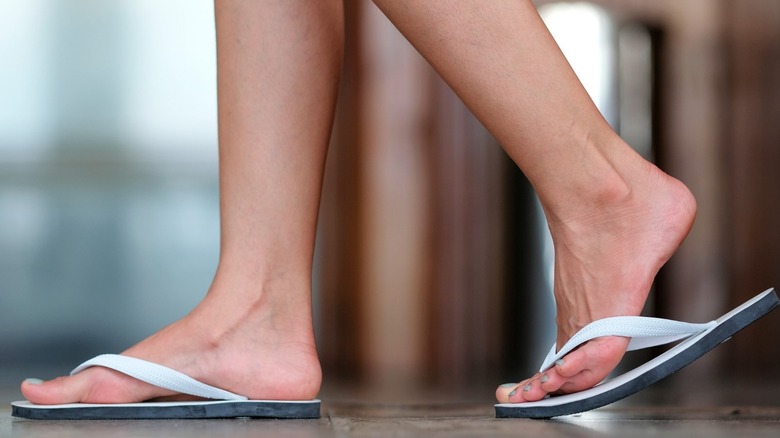 Eak Temwanich/Shutterstock
You're getting ready for that much-needed tropical vacation. You dig through your winter shoes to pull out an assortment of flip flops, but be careful — those innocent-looking shoes can take a toll on your body in ways that you are not going to flip over.
Flip flops, or versions of them, have been around for a long time. Believed to have originated in Egypt roughly 4,000 years ago, what historians describe as "thong footwear" was associated with people of higher status. Though thong footwear was usually constructed out of Halfa leaves, papyrus, or palm leaves, King Tutankhamun sported glamorous versions made of gold, bone, and birch bark. Meanwhile, typical Egyptians walked barefoot (via Johns Hopkins Sheridan Libraries & University Museums).
The modern version of flip flops originated during World War II in Japan at a time when the Japanese were taking over rubber tree plantations throughout Southeast Asia. Despite losing the war, the flip flop endured, and Japan began exporting flip flops to the United States in the 1950s. Flip flops eventually became a summer staple, and are now one of the most popular shoes in the country (via Marketplace).
Here's why doctors say you should avoid flip flops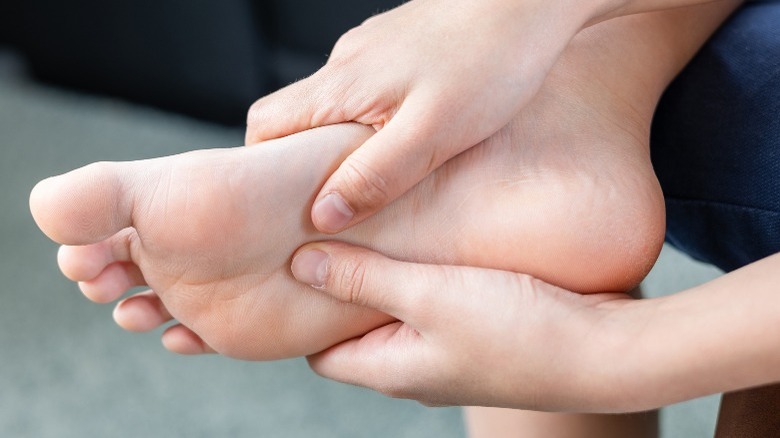 SrideeStudio/Shutterstock
As their simple look evolved into more ornamented designs, flip flops have become acceptable footwear in settings other than just poolside. As cute and convenient as flip flops are, however, they lack key structural components of traditional shoes and can wreak havoc on more than just your feet.
"Walking with flip flops for prolonged periods of time allows our foot to collapse affecting our gait and posture, which can lead to a tremendous amount of stress not only to the foot but to the rest of the body," Dr. Miguel Cunha, board-certified surgical podiatrist and founder of Gotham Footcare, wrote on the company's website.
A major issue with flip flops is that they lack support. This can inflame the tissue in your arch called the plantar, leading to a painful condition called plantar fasciitis. No arch support means that you are more likely to sprain your ankle, according to The Healthy. Flip flops also make your feet more susceptible to splinters and nails piercing from underneath.
For flip flops with arch support, Dr. Cunha recommends VIONIC Bella II Sandals, which are the only sandals approved by the American Podiatric Medical Association. He also suggests Birkenstock Gizeh EVA Flip Flops for their arch support and shock absorbency. As a rule, however, he says flip flops should only be worn to the pool, in the gym to avoid infections, and for a quick step outside.