Should You Get A Fourth Dose COVID-19 Booster?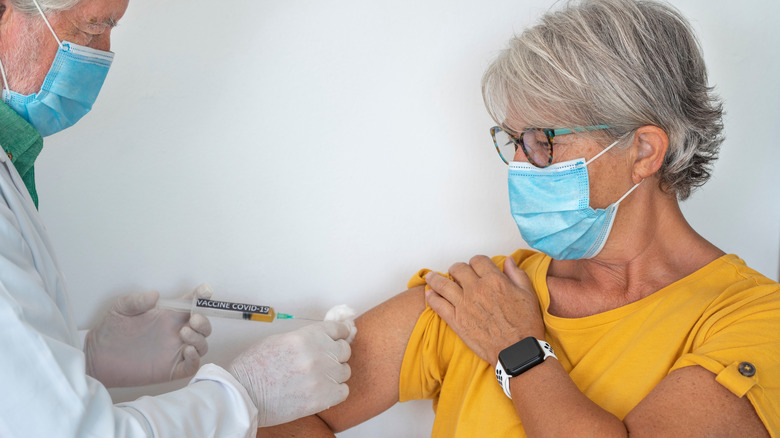 Lucigerma/Shutterstock
Although the United States is seeing a sharp decrease in COVID cases, the pandemic is still in full effect. Even though the Omicron variant caused both vaccinated and unvaccinated individuals to catch COVID at an alarming rate, hospitalizations and deaths are being seen at much lower numbers. The main reason we've seen a decrease in hospitalizations and deaths is thanks to the high vaccination rates of citizens around the country. Being fully vaccinated decreases your risk of getting COVID-19, spreading it to others, getting sick enough that you require hospitalization, and dying from the virus (via CDC). Both your initial COVID-19 vaccine and booster are needed to provide the best protection against the virus.
According to Nature Medicine, people need to also get a COVID booster to be protected against the Omicron variant. But as the virus continues to spread, some countries have begun to offer fourth doses of the vaccine to people to provide even more protection. Limited research has shown that a fourth dose of the vaccine can restore immunity against COVID-19 (via Medical News Today). However, it has not yet been determined if a fourth dose of the COVID vaccine is necessary for everyone. It is currently recommended in several countries for people with a high risk of being hospitalized with or dying of COVID.
The importance of getting a booster shot
Studio Romantic/Shutterstock
Before you start worrying about a fourth COVID-19 shot, focus on getting your booster. Over time, the efficacy of your initial COVID-19 vaccine will wane and a booster shot can restore that protection (via Johns Hopkins Medicine). New COVID-19 variants, like the Omicron variant, may be harder to keep away with your initial doses alone because the antibodies created after the initial vaccine are often not strong enough without the help of a booster. You are eligible to get your booster shot five months after receiving the Pfizer or Moderna vaccine, or two months after your Johnson & Johnson vaccine (via CDC).
You should still get your booster shot if you've had COVID-19 before. According to Medical News Today, there is more and more evidence that unvaccinated individuals who have had COVID in the past are more likely to be reinfected compared to someone who is fully vaccinated. As for annual boosters, no one knows for sure if that course of action will be recommended. However, some experts believe that COVID will be treated more like the flu moving forward. "In the United States, the coronavirus is demonstrating this type of seasonality where our biggest waves are in the winter, similar to other cold and flu seasons. I wouldn't be surprised if annual boosting or annual vaccine programs like for the flu become a common practice," said Dr. Alexander Rodgers of Charles R. Drew University of Medicine and Science.