The Truth About What's Really In Body Wash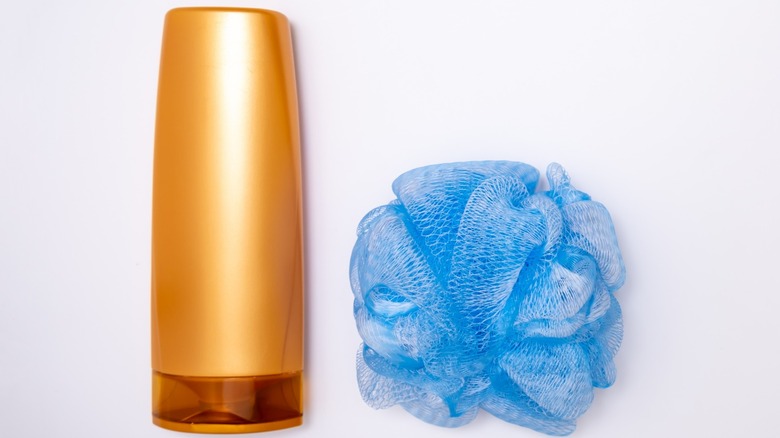 Nadezhda Mikhalitskaia/Shutterstock
If part of your bathing regimen includes slathering yourself in your favorite body wash, you have William Sheppard to thank for that. Sheppard is considered the body wash founding father, having invented one of the earliest versions of liquid soaps in 1865 (via National Museum of American History). It would take over a hundred years, however, for liquid soap to evolve and become mass-produced by companies like Softsoap. By the late 1980s the term "body wash" began to appear in marketing materials and people's bathrooms, per The New York Times.
And the popularity of body wash isn't going down the drain anytime soon. According to Statista, over 245 million Americans squirted liquid soap onto their loofahs in 2020, and that number is projected to reach close to 256 million people in 2024. However, just because body wash numbers are making their way up the chart, it doesn't necessarily mean that body wash is great for your skin. 
Body wash vs. bar soap: Which is better for you?
New Africa/Shutterstock
According to the experts at Healthline, both bar soap and body wash get rid of dirt and pathogens that can cause bacteria to grow on your skin. No surprise there. Where body wash diverges, however, is in its added blend of ingredients that address various skin conditions. For instance, if you have dry, flaky skin — there's a moisturizing body wash for that. Body washes are typically also more effective in exfoliating your skin than bar soaps.
If you care about the environment, however, bar soaps are usually more eco-friendly than body washes due to their recycle-friendly packaging and because bar soap dissolves completely. Bar soaps will also be better in some cases if you have allergies as they have minimal ingredients.
However, the experts at Healthline note that you should review the ingredients in both bar soaps and body wash to keep an eye out for red flags. Good ingredients include glycerine, a natural cleanser that helps to seal in your skin's moisture. And if you like certain scents, essential oils like lavender, coconut, and rose oil are also beneficial. However, they advise avoiding body wash that includes chemical preservatives called parabens, as they may be associated with causing certain health problems. The U.S. Food and Drug Administration (FDA) does not regulate these chemicals, but manufacturers must list them on their labels. The FDA continues to review whether parabens have an adverse effect on human health.
So if you're a die-hard body wash user, keep on squeezing. Just look at the label first to make sure your favorite liquid suds are the best choice for your skin.