The Real Difference Between Acid Reflux And Gallbladder Pain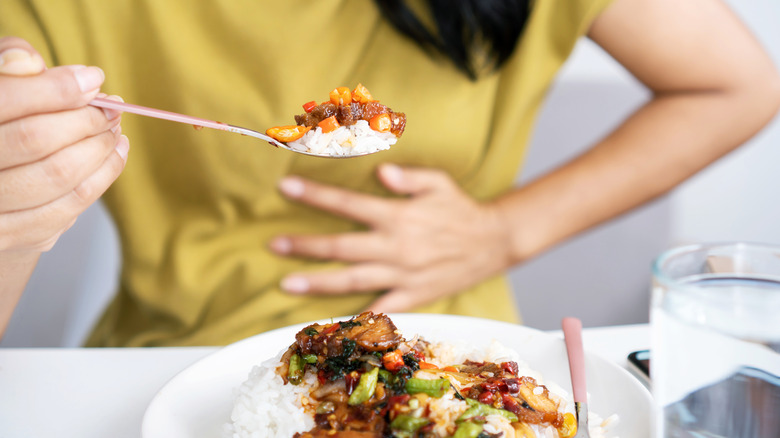 Doucefleur/Shutterstock
At one point or another, we've all had a stomachache or abdominal pain. Sometimes the reason for tummy trouble is as simple as eating too much, but in other cases, the cause for your stomach pain can be a mystery. According to Premier Surgical, two of the most common causes of abdominal pain are acid reflux and issues with the gallbladder. 
Mayo Clinic notes that acid reflux, commonly known as heartburn, happens when acid from the stomach enters the esophagus because of an abnormal relaxing of the esophageal sphincter. Chronic acid reflux is called gastroesophageal reflux disease (GERD).
The gallbladder stores bile, a substance that breaks down fat in the foods that you eat. If there is a blockage in the bile duct and bile gets trapped, it causes the gallbladder to swell, which is painful and known as cholecystitis (via Cleveland Clinic).
How can you tell if your abdominal pain is caused by acid reflux or something happening in the gallbladder?
Pay attention to pain location and timing of symptoms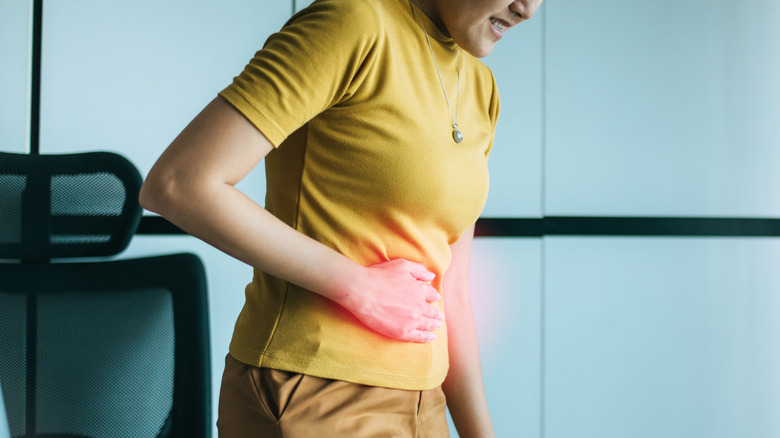 GBALLGIGGSPHOTO/Shutterstock
Knowing the differences between acid reflux and gallbladder pain can help you find the best course of action for pain relief. According to WebMD, acid reflux can cause heartburn, a sour taste in your mouth, and pain in the upper abdomen. The symptoms of acid reflux usually happen after you've eaten a big meal. Lying flat on your back or bending over usually make heartburn worse. Acid reflux is commonly treated with over-the-counter antacids. Avoiding foods that worsen symptoms like citrus, chocolate, peppermint, and tomatoes can help improve symptoms.
Gallbladder pain is severe and comes on suddenly. The pain can spread from the upper right abdomen to the right shoulder blade. In contrast to acid reflux, gallbladder pain can cause a fever, vomiting, a tender abdomen, jaundice, and worsening pain with deep breathing. Gallbladder pain may be treated with antibiotics, pain medication, or removal of the gallbladder (via Cleveland Clinic). The best way to tell whether you are suffering from acid reflux or gallbladder pain is to discuss your symptoms with your doctor.