Side Effects Of Remdesivir You Should Know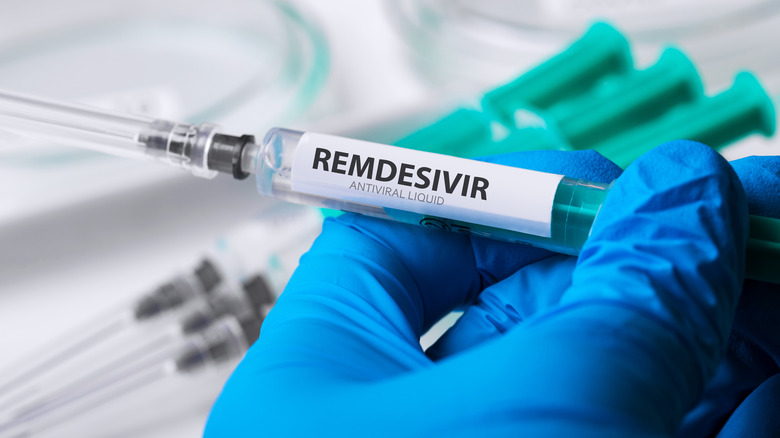 Tobias Arhelger/Shutterstock
As the COVID-19 pandemic has stretched on, more and more research has gone into developing effective vaccines and treatments for the disease. One treatment called remdesivir is used to help patients with a serious case of COVID that has landed them in the hospital (via Mayo Clinic). If you are ever in that position, a doctor may recommend taking remdesivir. This antiviral medicine can only be administered by a doctor.
Like any medication, remdesivir comes with potential side effects. These include chest tightness, back pain, chills, and cough. Also included is dark-colored urine, difficulty swallowing, fast heartbeat, fever, and headache. Puffiness or swelling in the facial area and stomach pain is also common. Less common side effects include skin rashes and seizures. These side effects will require immediate medical attention. Some side effects that do not require immediate medical attention include burning, coldness, hives, inflammation, and soreness. These effects will usually go away on their own as your body adjusts to the medication.
How to avoid needing remdesivir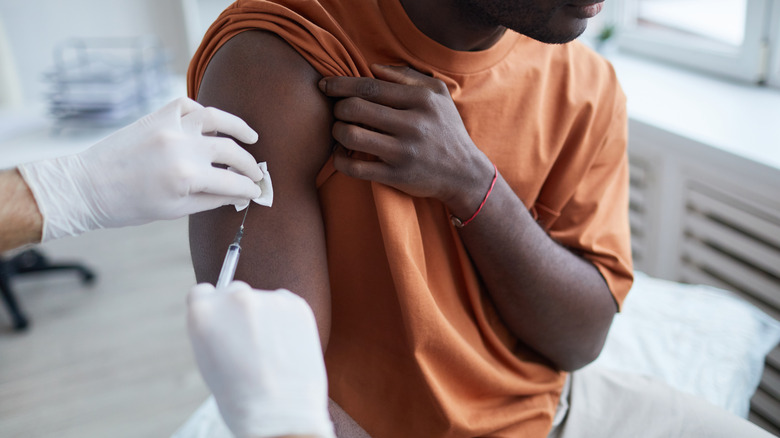 SeventyFour/Shutterstock
Remdesivir is only necessary for people suffering from a serious case of COVID. The best way to avoid needing hospitalization from this virus is to get vaccinated. Many studies have found that getting the COVID-19 vaccine and booster shot significantly reduces your chance of being hospitalized from COVID (via Northeastern University). Being fully vaccinated, including getting your booster shot, also decreases your risk of getting COVID-19 in the first place, spreading it to others, and dying from the virus (via CDC).
There has been a huge amount of false information spread about vaccines since the beginning of the pandemic, but the vast majority of medical experts agree that aside from rare exceptions, getting the vaccine is the safest and most effective way to prevent COVID. If you have been vaccinated but haven't received your booster shot yet, now is the time. You are eligible to get your booster five months after receiving the Pfizer or Moderna vaccine, or two months after your Johnson & Johnson vaccine (via CDC).