What We Know About Phil Collins' Deteriorating Health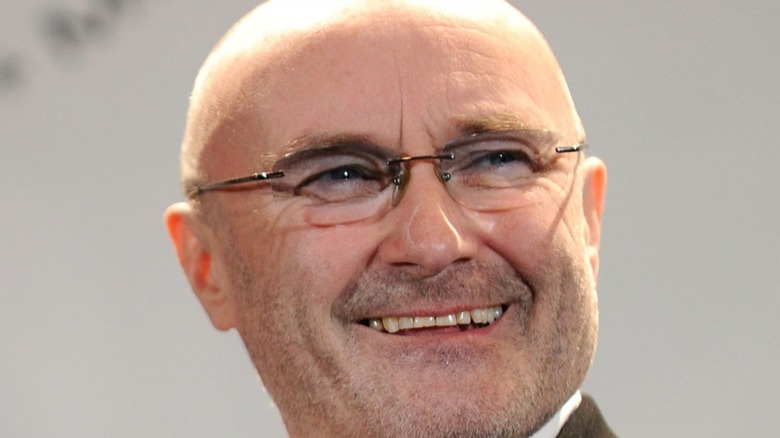 Stephen Lovekin/Getty
World-renowned British singer and Genesis frontman, Phil Collins, recently pulled into Berlin, Germany, one of the stops on the band's final tour. The 71-year-old rock icon delivered his signature vocals — but was unable to play the drums.
Instead of dazzling the crowd with his powerful, emblematic drumbeats during the classic, "In The Air Tonight," concert-goers watched Collins take a seat on stage and rest his hands on a microphone stand (via Fox News). Long identified by his mastery of the drums, declining health is now preventing Collins from even picking up a pair of drumsticks. USA Today reports that Collins' son Nicholas is playing the drums in his father's place on the tour.
Collins has been in declining health since the 2007 Genesis Reunion Tour, which was literally the straw that broke the camel's back. The tour cemented serious nerve damage and spinal injuries; it was a culmination of years during which Collins played the drums while engaging in poor posture. At one point, the nerve damage was so severe that he had to tape the drumsticks to his hands, the rocker told Rolling Stone in 2015. Collins went public about the latest state of his health struggles in the fall of 2021, admitting that he could "barely hold" a [drum] stick (via BBC News).
How poor posture can lead to nerve damage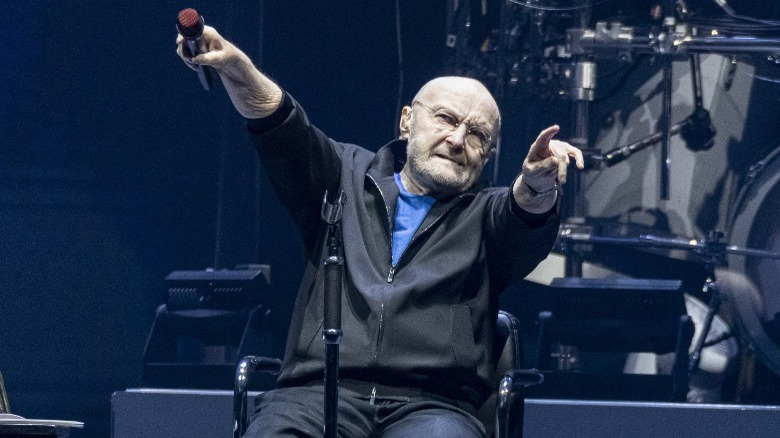 Scott Legato/Getty
There's a reason your mom always nagged you when you were a kid to "sit up straight." After years of slouching and ignoring good posture, you may find yourself with a chronic aching neck, back, or worse, ​​chiropractor Andrew Bang tells the Cleveland Clinic. 
Phil Collins' nerve and spinal issues are due to poor posture related to his work — sitting and playing the drums. However, you don't need to be a drummer to be susceptible to the kind of health issues that Collins is experiencing. Many of us sit at desks as part of our jobs and, over time, poor posture and a lack of motion can lead to serious neck, back, and joint damage. According to the experts at Melbourne Hand Rehab, poor posture can also result in nerve damage in your hands, as the nerves that provide hand sensation and strength are rooted in the spine.
To avoid long-term nerve and spinal issues, health experts advise that you set up a comfortable workspace with optimal chair and computer monitor heights, and also take frequent breaks. In addition, make sure your head is in an aligned position and not jutting forward. To maintain a healthy spine in the long term, experts recommend that you engage in short stretch and strength exercises throughout the day that target your shoulders, neck, and core (via the Cleveland Clinic).