Everything You Need To Know About The New 'Test-To-Treat' Services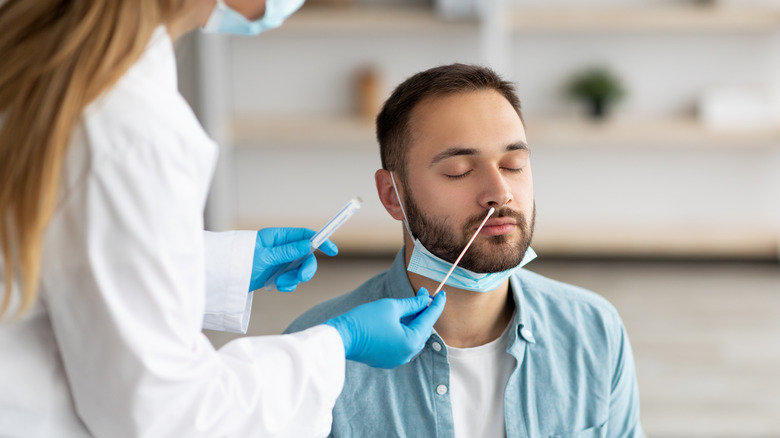 Prostock-studio/Shutterstock
According to CNN, COVID-19 antiviral medications Paxlovid and molnupiravir are ready for free distribution across the United States. This is all due to a new 'test-to-treat' initiative that President Biden announced during the State of the Union Address on March 1, 2022. President Biden said, "I've ordered more pills than anyone in the world has. Pfizer is working overtime to get us a million pills this month and more than double that next month."
President Biden believes the antiviral pills will have a positive impact on COVID-19 hospitalizations. He stated, "If you get Covid-19, the Pfizer pill reduces your chances of ending up in the hospital by 90%" (via CNN). Paxlovid by Pfizer is for those 12 and older, and Merck's molnupiravir is for adults only. Even if symptoms are mild, the antiviral will be prescribed, regardless of whether the results are via a PCR or a rapid test. 
When and where to get free COVID-19 medication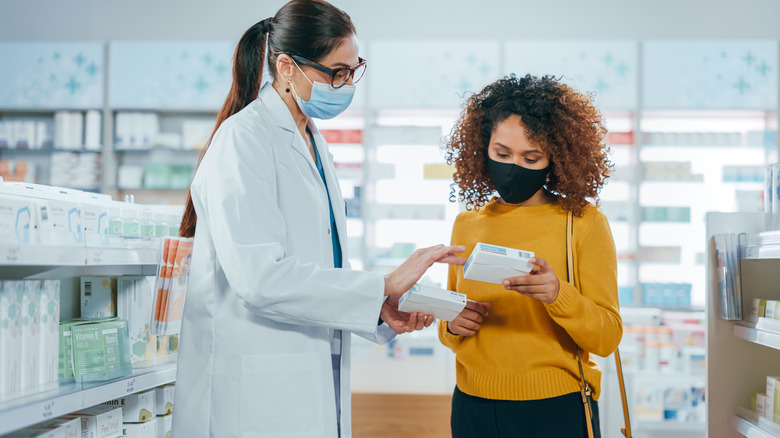 Gorodenkoff/Shutterstock
Although shipments of the antiviral drugs have been ordered, clinics must await their delivery before prescriptions can be filled. Dr. Tom Inglesby, senior advisor to the White House's COVID-19 Response Team, said, "The ordering process has launched today in pharmacy-based clinics around the country." Dr. Inglesby added that as orders for the antiviral medications come in, shipments will be sorted out within a day or so (via CNN).
According to the U.S. Department of Health and Human Services, the 'test-to-treat' program will be available at local pharmacy-based clinics, federally-qualified community health centers (FHQCs), and for residents of long-term care facilities, according to CNN. Pharmacists will not be able to prescribe the antiviral pill, but physicians, advanced practice registered nurses, and physician assistants will be able to write a prescription. Additionally, 'test-to-treat' sites will have healthcare providers available who can prescribe the antiviral medication on the spot. The antivirals are most effective if they are taken within a few days of the start of symptoms or a positive COVID-19 test (per CNN).