How Your Dental Health Relates To High Blood Pressure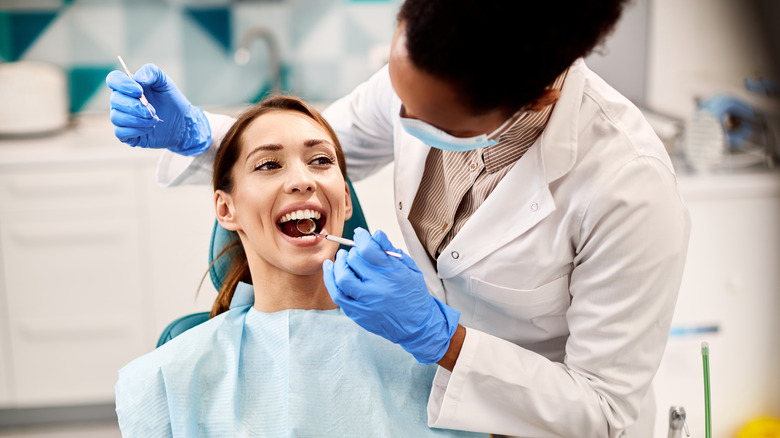 True Touch Lifestyle/Shutterstock
It's well known that poor dental health can lead to issues like cavities and gum disease. But oral health is linked to other aspects of your health as well. Neglecting proper dental care like brushing and flossing your teeth allows the bacteria in your mouth to accumulate over time. This bacteria attacks the teeth and can lead to cavities, gum disease, tooth decay, and other oral problems. When left untreated, these mouth-related health issues can affect the rest of the body by allowing bacteria to enter the digestive and respiratory tracts and spread to other areas (via Mayo Clinic).
Poor oral health has also been linked to high blood pressure, especially in people who have been diagnosed and are attempting to control their blood pressure levels (via American Heart Association). Periodontal disease, which is a condition that involves gum infections and tooth damage, has been shown to worsen blood pressure levels and interfere with the treatment of hypertension. People with periodontal disease should monitor their blood pressure closely to ensure it doesn't reach unsafe levels.
The importance of dental care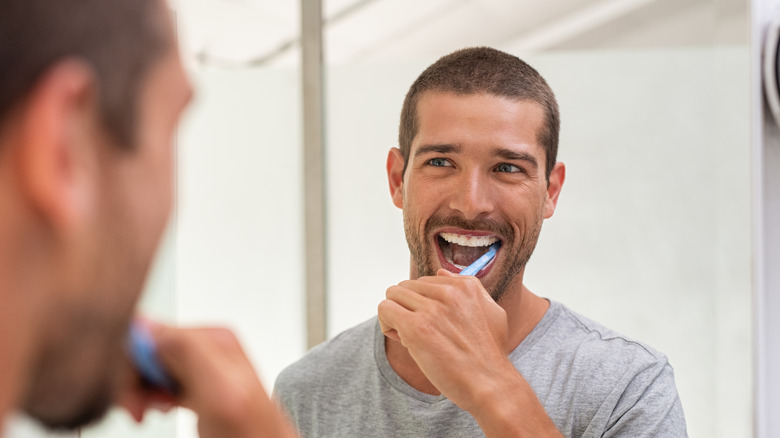 Rido/Shutterstock
Of course, the health of your mouth shouldn't be ignored in the argument for proper dental care. It is recommended that adults with healthy teeth visit their dentist at least once a year, but going twice a year is the best option (via WebMD). During a teeth cleaning, your dentist will remove plaque and tartar that can build up along your gum line and in between your teeth (via Healthline). Tarter can develop in anyone's mouth, no matter how good their at-home cleaning routine is.
According to the American Dental Association, "regular dental visits are important because they can help spot dental health problems early on when treatment is likely to be simpler and more affordable." If your dental hygienist notices early signs of oral health problems like gum disease, cavities, or oral cancer, they can quickly treat the problem or prevent it from worsening. You should also remember to brush your teeth twice each day and floss at least once per day.