Should Parents Of Young Children Be Worried About Omicron BA.2?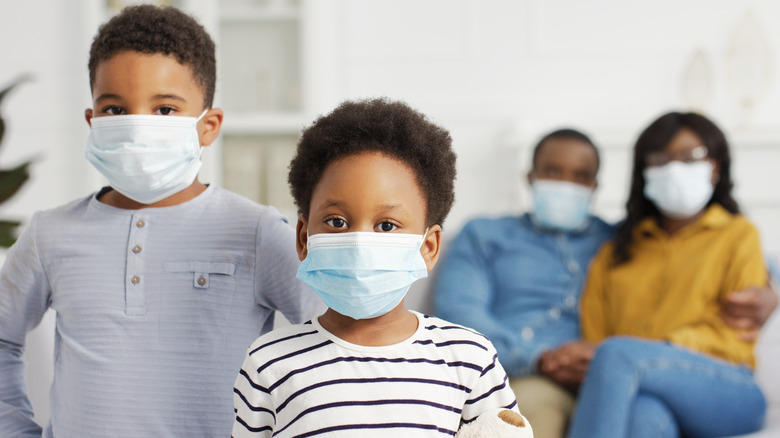 M_Agency/Shutterstock
According to CNN, the Omicron subvariant BA.2 is now the most prevailing strain in the country. Highly contagious, 51% to 59% of all COVID-19 infections reported last week were due to BA.2. Over 70% of cases in the northeast region of the United States were caused by BA.2. CNBC says that this subvariant spreads 75% faster than Omicron BA.1, but White House chief medical advisor Dr. Anthony Fauci doesn't believe we'll be hit by another surge and said reintroducing COVID restrictions isn't necessary.
Parents are alarmed as Omicron seems to be impacting children under the age of 5 more than Delta. Per Healthline, Omicron hospitalizations among this age group peaked this year on January 8 and numbers were 5 times higher than those caused by the Delta variant. This is particularly concerning because vaccines have yet to be approved for children under 5, according to the Centers for Disease Control and Prevention (CDC), and funding for vaccines is running out.
Dr. Mark Cameron, an associate professor at Case Western Reserve University School of Medicine, told Healthline that COVID-19 poses a threat to anyone who's unvaccinated, including children. This is especially true if they have other health issues. Being unvaccinated and catching the virus can cause serious and possibly deadly symptoms such as fever, gastrointestinal symptoms, and multisystem inflammatory syndrome (MIS-C), which involves inflammation in the heart, lungs, kidneys, brain, skin, eyes, and gastrointestinal tract.
How to protect your children from Omicron BA.2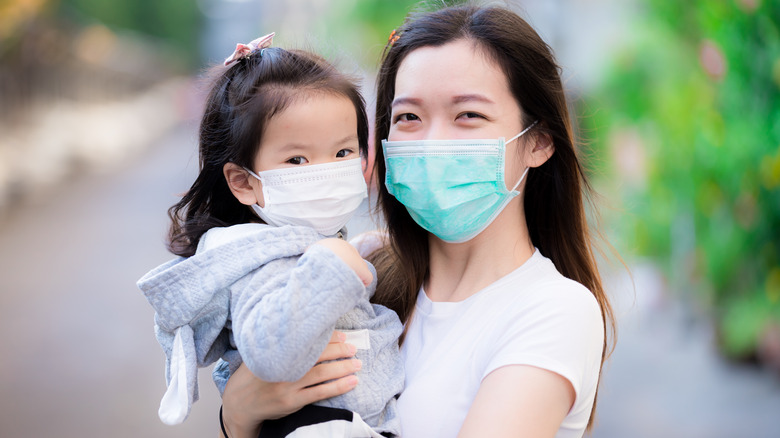 Seahorse Photo in BKK/Shutterstock
When it comes to keeping children safe from BA.2, Dr. James Campbell, Professor of Pediatrics in the Center of Vaccine Development and Global Health at the University of Maryland School of Medicine, told Healthline it's important to continue the same protocols of social distancing, wearing masks, making sure they wash their hands, and avoiding contact with anyone who's sick. He added that anyone who has had COVID-19 has built up antibodies against the virus, but it's hard to tell how strong protection is for children who developed COVID-19 and aren't vaccinated. Dr. Cameron advises parents to get vaccinated and boosted, if eligible, to help protect young children. He also recommends wearing a mask as an added layer of protection.
According to NBC Chicago, symptoms of BA.2 can include fever or chills, cough, shortness of breath, difficulty breathing, fatigue, sore throat, congestion or runny nose, diarrhea, nausea, vomiting, headache, aching in the muscles or another part of the body, and losing the ability to smell or taste. The primary symptoms are cough, fatigue, congestion, and runny nose. If you or your child has experienced an onset of symptoms, visit your doctor right away for treatment.