Study Reveals This Common Spice Can Help Fight Breast Cancer
Yaw Niel/Shutterstock
The impact of breast cancer has touched the lives of many in one way or another. It has been estimated that in 2022, there will be 287,850 new cases of invasive breast cancer in women and 2,710 new cases of invasive breast cancer in men (via Breastcancer.org). According to the Cleveland Clinic, 15% of all invasive breast cancers are triple-negative breast cancer. This type of breast cancer most commonly affects Black women under the age of 40 (via American Cancer Society).
Triple-negative breast cancer gets its name due to the absence of progesterone, estrogen, and HER2/neu receptors that are commonly seen on other breast cancer cells. The absence of these receptors makes it more challenging for doctors to treat triple-negative breast cancer. Triple-negative breast cancer may be treated with a combination of medications, therapies, and surgeries including chemotherapy, mastectomy, and radiation (via the Cleveland Clinic). However, new research reveals that something on your spice rack may help to treat triple-negative breast cancer.
Cardamonin inhibits triple-negative breast cancer cells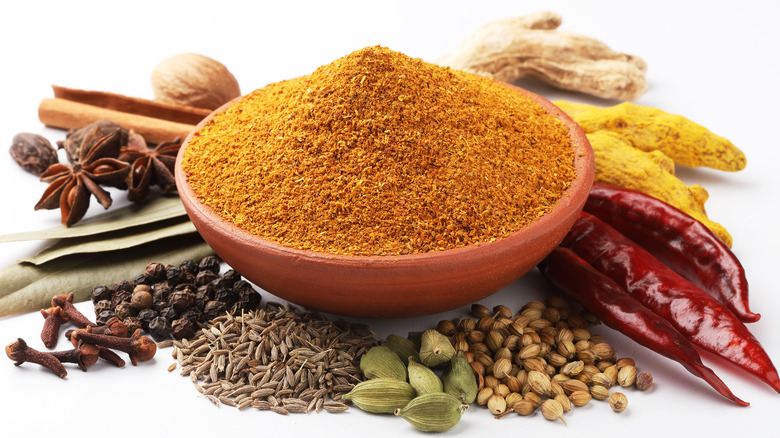 Asmiphotoshop/Shutterstock
Cardamom, a common spice used in Indian dishes, may have an important use outside of the kitchen. Dr. Patricia Mendonca, an assistant professor and research analyst at Florida A&M University, presented evidence that shows promise in treating triple-negative breast cancer with a natural compound found in cardamom called cardamonin. (via MedicalNewsToday).
Due to cardamonin's anticancer properties, Dr. Mendonca and her team decided to investigate the effects of cardamonin on PD-L1, a protein that is present on certain evasive cancer cells, according to MedicalNewsToday. Researchers assessed the effects of cardamonin on triple-negative cell lines in Caucasians (MDA-MB-231) and African-Americans (MDA-MB-468).
"We observed that both cell lines respond to the compound, inhibiting the expression of PD-L1, but in different levels, since MDA-MD-231 had a higher expression of PD-L1 after stimulation," Dr. Mendonca told MedicalNewsToday. According to Dr. Mendonca, the findings show the differences in tumor microenvironments of Africans and non-Africans. Dr. Mendoca believes that cardamonin has the potential to be used in place of more invasive and strenuous triple-negative breast cancer treatments, such as chemotherapy, radiation, and surgery (via MedicalNewsToday).