BA.4 And BA.5: Everything We Know About The New COVID-19 Subvariants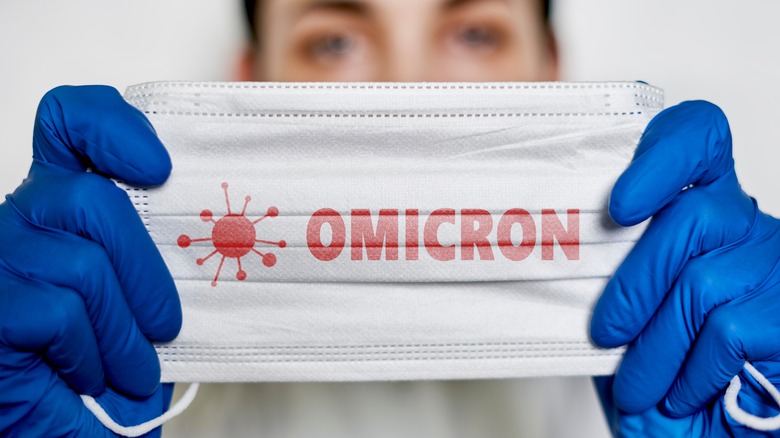 G.Tbov/Shutterstock
For over two years, the world as we've known it has been under restrictions to help prevent the spread of COVID-19. Currently, many of those restrictions, such as mask-wearing and social distancing, have been lifted. Many of us are back to attending events without much concern for contracting COVID-19. However, getting back to normal may be short-lived due to the emergence of new COVID-19 subvariants.
According to The New York Times, the initial emergence of the Omicron strain was predominantly the BA.1 variant. Then, the BA.2 variant became the most dominant Omicron variant in the world. On Monday, the World Health Organization (WHO) announced that it is now tracking two new subvariants of the Omicron strain, BA.4 and BA.5, reports Reuters. Currently, there have been a few dozen cases of the new, highly transmissible subvariants. The BA.5 variant was seen in multiple cases in South Africa last week, and four cases of both new variants were seen in Botswana in fully vaccinated people aged 30 to 50 (via Reuters).
New Omicron variants can evade the immune system
angellodeco/Shutterstock
According to The New York Times, a variant occurs when a group of coronaviruses has the same copying errors, called mutations. Researchers have found that Omicron has about 50 mutations. The concern with mutations is that the immune system may not be able to recognize the virus. This is called immune escaping and can lead to severe cases of the coronavirus, even in people who are vaccinated (via Healthline). According to Reuters, the WHO is tracking the new subvariants for "additional mutations that need to be further studied to understand their impact on immune escape potential."
According to Dr. Robert G. Lahita, director of the Institute for Autoimmune and Rheumatic Disease at Saint Joseph Health and author of "Immunity Strong," the mutations can also cause lower respiratory diseases or worse outcomes (via Healthline). If variants start to cause serious illness in the vaccinated, a new vaccine that specifically targets new variants may be needed. Since mutations can always create new variants of the coronavirus, the pandemic is not over. If variants can escape immunity, we could go back to quarantining, wearing masks, and social distancing. However, experts say that the new Omicron variants are not yet concerning (via Healthline).