Why Routine Eye Exams Are So Important, Even If You See And Feel Fine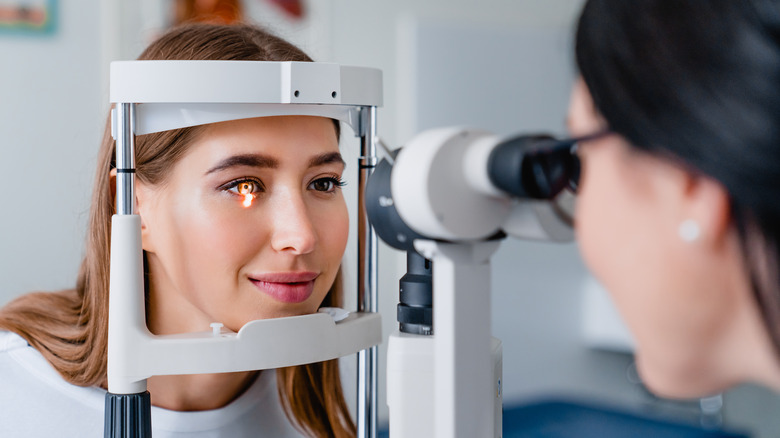 Inside Creative House/Shutterstock
For people with glasses, contacts, or other vision concerns, routine eye exams are normal. However, people who have healthy eyes and perfect vision may not think they need to visit their eye doctor unless something goes wrong. However, just like you should visit your physician regularly even if you feel healthy, you should also not neglect regular visits to your eye doctor. Our eye health is connected to many other aspects of our health (via Mindbodygreen).
For example, our eyes, like many other parts of our body, are connected to our immune systems. If you develop an autoimmune disorder, it may end up affecting your vision in its early stages. Vision problems like eye inflammation can show your eye doctor that something may be wrong. You may not be able to recognize mild eye inflammation, but your doctor will be able to diagnose the issue during a routine eye exam. Diabetes is another health condition that often affects the eyes first. Diabetes can lead to several different eye health concerns, including hyperglycemia. This can temporarily lead to blurry vision as your body tries to cut back on the energy it uses until your blood sugar can get back to normal (via WebMD). Your eye doctor can let you know if you might have diabetes because of how your eye health looks.
How often should you have an eye exam?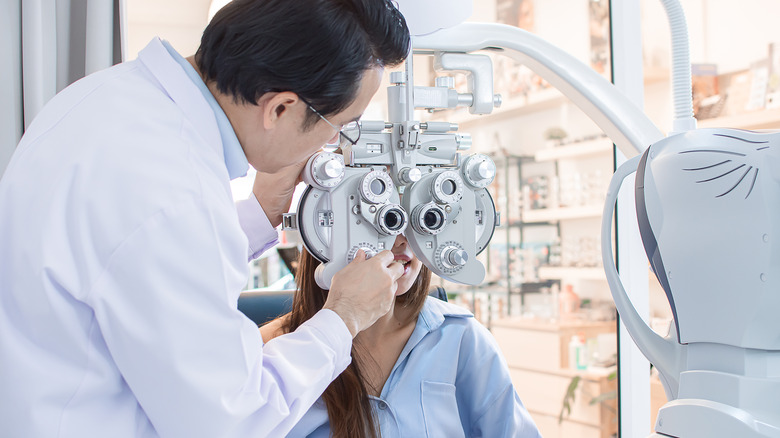 Ann Rodchua/Shutterstock
If you are able to afford it, you should try to schedule a yearly eye exam with your eye doctor (via Mindbodygreen). Going this frequently will allow your doctor to stay on top of your eye health and detect any potential problems early. According to the CDC, people with good eye health may be able to go longer between visits. However, children and people with diabetes should try to visit every year.
People who are at risk of developing glaucoma should have an eye exam at least every two years. Glaucoma is a disease that is usually the result of high pressure inside your eye that can damage your optic nerve (via Mayo Clinic). The pressure is usually caused by a fluid buildup inside your eye where the fluid would normally drain out where the iris and cornea meet. The pressure from this fluid pushes on the optic nerve and gradually deteriorates it, which can lead to blind spots in your field of vision or permanent blindness if it goes untreated. People over the age of 40 are at a higher risk of developing this disease and should schedule regular eye doctor visits when possible.