Research Reveals Excess Weight May Nearly Double The Risk Of Endometrial Cancer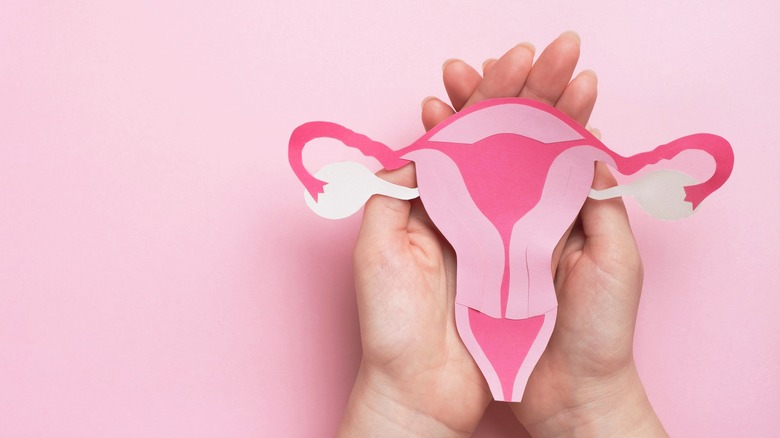 Helena Nechaeva/Shutterstock
According to the New York Times, experts predict that by the year 2030, nearly one in two adults in the United States will have obesity and one in four will have severe obesity. Body Mass Index (BMI) is used as a screening tool to identify overweight and obese individuals. Height and weight are used to calculate a person's BMI. A BMI between 25 to 29 is considered overweight. A BMI of 30 or greater is considered obese. Severe obesity is a BMI of 40 or greater, according to the Centers for Disease Control and Prevention (CDC).
Obesity is not just a matter of physical appearance, but it is a risk factor for several serious health conditions. According to the CDC, obesity is a risk factor for heart disease, type 2 diabetes, gallbladder disease, sleep apnea, stroke, cancer, and mental illness. In fact, a new study has found that excess weight can almost double women's risk for developing endometrial cancer.
Several factors may link obesity to endometrial cancer
Peakstock/Shutterstock
According to Healthline, endometrial cancer, also known as womb cancer, happens when the cells of the endometrium that lines the uterus start to grow out of control. A new study published in BMC Medicine on Monday revealed that for every five units over the normal BMI, there was an 88% risk increase for endometrial cancer. Researchers from the University of Bristol reviewed the genetic samples of 120,000 individuals from several countries. Nearly 13,000 of those individuals had endometrial cancer.
Fourteen factors were reviewed to explain the link between obesity and endometrial cancer, such as fasting insulin, testosterone, and cholesterol levels (via Healthline). Dr. Elena Ratner, a gynecologic oncologist at Yale Cancer Center and Smilow Cancer Hospital, believes that obesity plays a role in the risk of endometrial cancer in menopausal women. Dr. Ratner stated, "Estrogen increases growth or proliferation of the endometrium, increasing risk of endometrial cancer."
Dr. G. Thomas Ruiz, OB/GYN Lead at MemorialCare Orange Coast Medical Center in Fountain Valley, CA, told Healthline, "If one is genetically predisposed to obesity, the key is weight control." Dr. Ruiz recommends a balanced diet of carbohydrates, proteins, and vegetables, like the Mediterranean diet.