How To Tell If Your Nail Salon Is Safe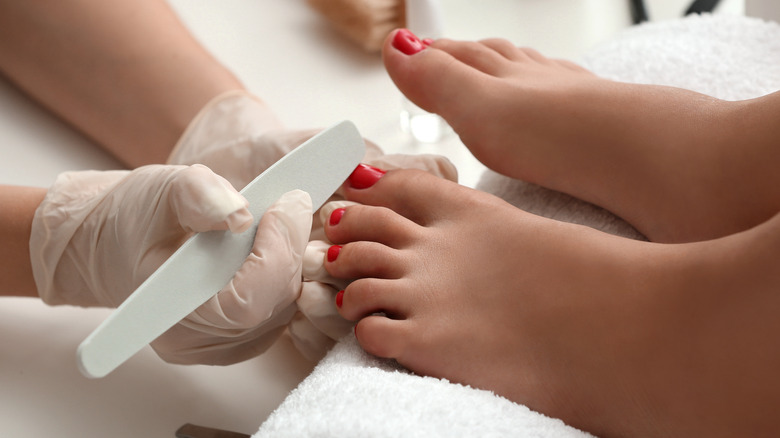 Pixel-Shot/Shutterstock
If you love getting manicures and pedicures, you're not alone. Despite the fact that nail salons took a hit during the pandemic, with many salons having to close their doors for good, experts say the industry is likely to see 9% year-over-year growth through 2025 (via Market Research).
But the industry in the United States has been popular for a while, and it all began close to 150 years ago. According to the New York Post, in 1878, a woman by the name of Mary Cobb opened what some consider the first modern-day nail salon in America in New York City. Cobb, who could also be viewed as an early female entrepreneur, charged $1.25 per manicure, which would be roughly $35 in 2022 dollars (via Official Data Foundation). Despite the cost of this elite service, within 10 years, Cobb's business was a huge success, particularly among socialites, showgirls, and prostitutes.
However, roughly a hundred years later, as Korean immigrants began to come to America in the 1970s and flex their own entrepreneurial muscles, manicures became more affordable and accessible to a wider demographic. And now, nail salons seem like they are on every corner. But before you go into any of them thinking they are all the same, it is important to know how to decide whether or not a nail salon is safe.
Tips to keep in mind when choosing a nail salon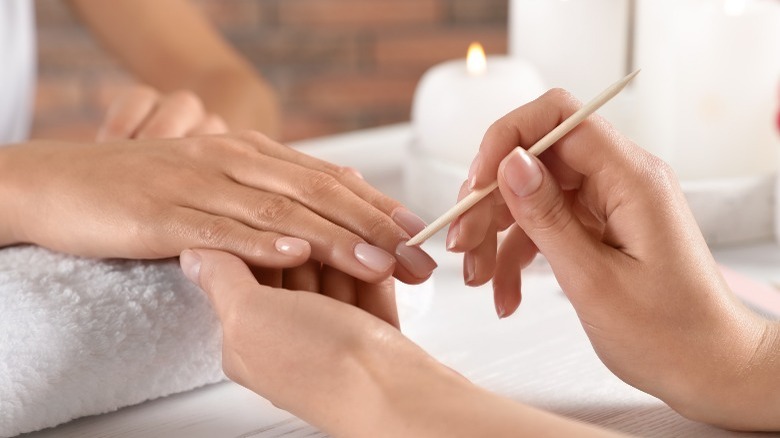 New Africa/Shutterstock
According to the experts at Yale Medicine, it is easy to pick up an infection or nail fungus while at a nail salon because when your nail gets wet, cut, or filed, this provides a way in for bacteria. In short, a nail salon can potentially impact your health.
To reduce your chances of getting an infection, keep an eye out for certain red flags. For instance, Olive & June salon-owner Sarah Gibson Tuttle tells Makeup.com by L'Oréal that, at the very minimum, salons should be sanitizing their tools with a hospital-grade sanitizer, such as the disinfectant Barbicide. Tuttle uses an autoclave, which is a medical-grade sterilizer that reaches very high temperatures and kills all bacteria. Tuttle says to make sure that the manicurist is either taking tools from one of these types of sanitizers or from a sealed pouch.
Also, nail files, pumice stones, and buffers should be single-use only since they cannot be sanitized. Tuttle advises asking if you can keep the items when they are done using them on you. If they say no, this is a sign that they may re-use these items. And beware of credo knives — the tools that look like cheese graters –  because these are illegal for nail salons to use.
Tuttle also encourages you to ask plenty of questions and to trust your intuition. At the end of the day, if the salon doesn't feel safe, best to trust your gut and move on to another salon (via Makeup.com).