What's The Difference Between An Esthetician And A Dermatologist?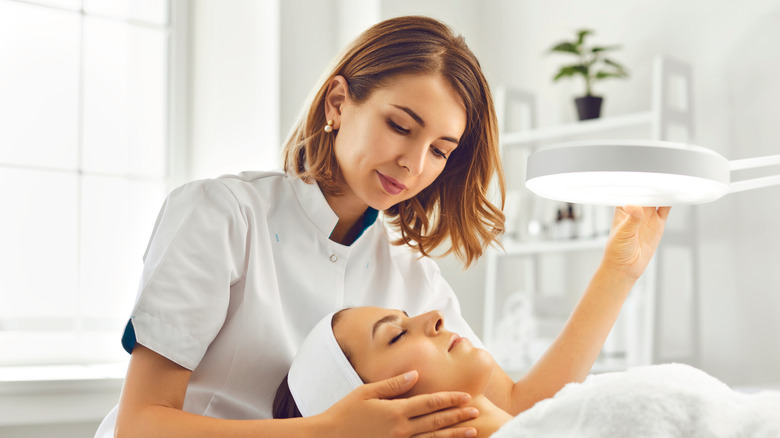 Studio Romantic/Shutterstock
Everyone has a skincare routine. With the popularity of social media and people showing themselves online, one's appearance is being pushed further into the spotlight. Sometimes, this can have a negative influence on your life if you follow attractive peers on social media, according to a 2019 study published in Body Image.
To keep up appearances, skincare routines have become wildly popular. The worldwide skincare industry is worth $136 billion, according to Statista. Entrepreneurs in the skincare industry seek credibility from skincare experts for the claims they make pertaining to the effectiveness of their products.
Included in this field of expertise are estheticians and dermatologists, offering different services and levels of knowledge. Not only do these two groups of skincare experts vouch for product effectiveness they also provide services directly to retail consumers. So what is the difference between an esthetician and a dermatologist?
Dermatologists help fix skin, hair, and nail concerns with medical treatments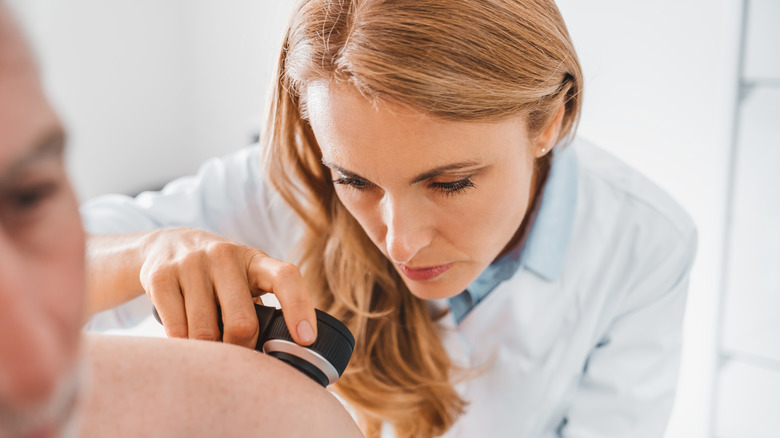 Inside Creative House/Shutterstock
Dermatologists are specialists who understand and can treat over 3,000 conditions that affect skin, hair, and nails, according to the American Academy of Dermatology Association (AAD). Dermatologists must go to medical school and then complete a residency. This extensive training can take up to 12 years, per AAD, which includes four years at university, four years at medical school, a one-year internship, and a minimum of three years completing a residency.
Because of their medical training, one big difference between a dermatologist and an esthetician is that dermatologists can prescribe medication and perform medical treatment plans for their patients. The treatments can be for many different conditions, such as eczema, acne, hair loss, or hyperpigmentation, among others (via Well+Good).
Dermatologists will also participate in research and expand the field of dermatology by writing papers and completing studies, according to InStyle. Like all doctors, dermatologists want to help people by discovering new treatments for diseases and ailments related to dermatology. Completing research is part of that process.
Estheticians help achieve minor cosmetic goals with non-medical services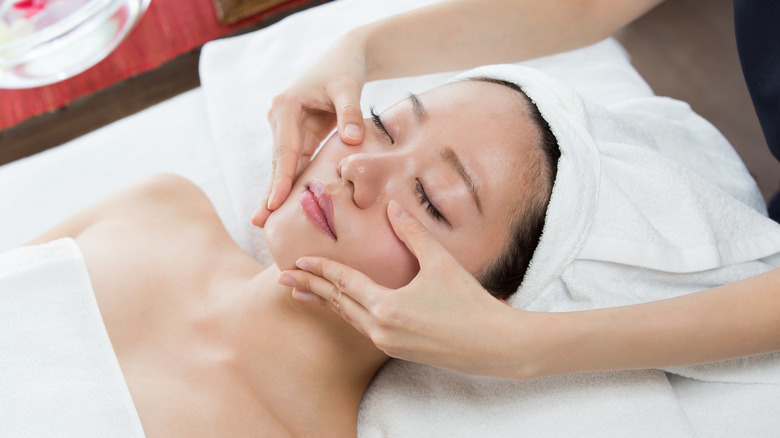 kei907/Shutterstock
Unlike dermatologists, estheticians are not healthcare providers. Because estheticians will not have graduated from medical school, they cannot prescribe medications, diagnose skin conditions, or make recommendations for skincare routines that go beyond the superficial layers of the skin, according to InStyle. Instead of working in medical practice, estheticians usually work in a spa, salon, or other beauty establishments. They provide cosmetic services, such as facials, superficial chemical peels, waxing, etc., instead of medical procedures, per Verywell Health.
Essentially, estheticians are restricted to working on the superficial layers of the skin. So performing injections like Botox and facial fillers are also not done by these professionals (via Verywell Health). However, this doesn't mean that anyone can immediately become an esthetician. In all 50 states, an esthetician license is required, which involves taking esthetician exams and spending hundreds of hours of supervised practice in their fields, according to EstheticianEdu.org. Only then can estheticians find a job and begin providing cosmetic services.