The Surprising Way Allergies Can Lead To Mental Health Disorders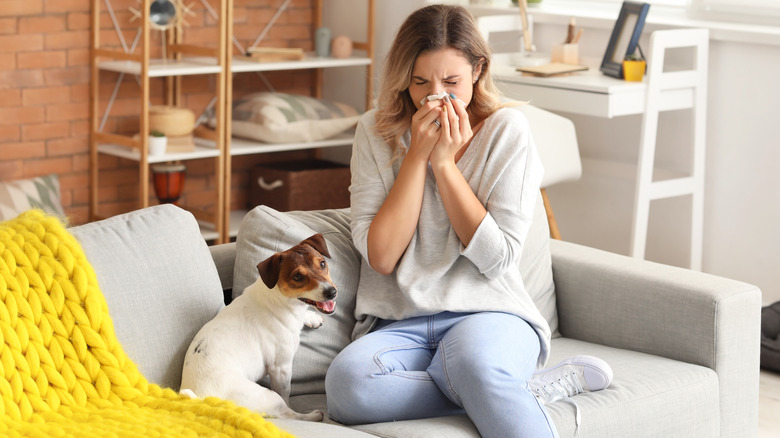 Pixel-Shot/Shutterstock
Negative perceptions about people with allergies can impact the mental health of those who are allergic to substances like mold, dust, pollen, and food (via Medical News Today). Researchers conducted an online survey to better understand the psychological impact of allergies, surveying nearly 3,000 people with allergies in the U.K. and nearly 1,100 people without them. The five most common allergies reported were hay fever, asthma, eczema, drug allergies, and food allergies.
The survey found that 52% of respondents with allergies reported downplaying their allergies for fear of judgment from family, friends, and employers, while 53% reported avoiding social situations because of their allergies. Meanwhile, more than one-third of respondents had negative perceptions about people with allergies, with 37% reporting that they think people tend to exaggerate the severity of their allergies and 35% claiming that people fake allergies so they can avoid consuming certain kinds of foods.
Misperceptions about allergies can cause fear and anxiety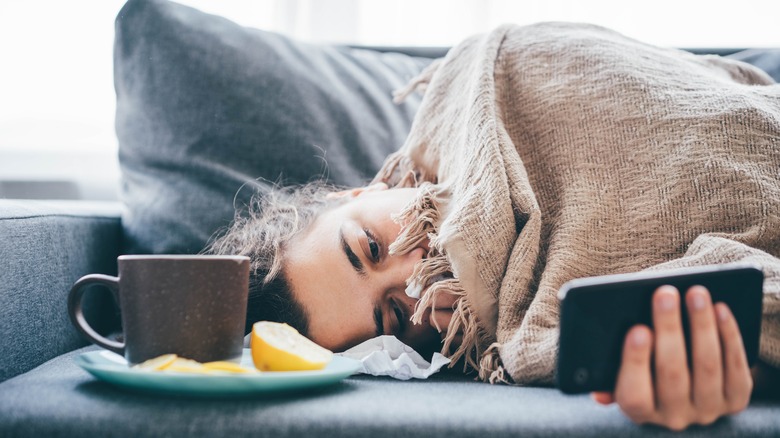 Mariia Korneeva/Shutterstock
According to experts at New Food, these misperceptions can make everyday activities and social interactions unnecessarily stressful, which can lead to isolation and feelings of loneliness. This is especially prominent among people with severe or even life-threatening allergies. Carla Jones, the CEO of Allergy UK, told New Food that the "psychological impact" of allergies is often overlooked and can affect nearly every aspect of one's life, including relationships and social activities, like going out to dinner.
According to Jones, it is not uncommon for people with allergies to experience feelings of fear, anxiety, and loneliness. "There is a real misunderstanding on how allergies can impact both physical and mental health," she said. These misperceptions don't just harm people with allergies, however. They can also take a toll on caretakers. In fact, parents of children with allergies also reported experiencing mental health issues, with 54% saying that they felt very anxious about their child's allergy when eating at a restaurant (via Medical News Today). Since allergies are becoming more and more prevalent, however, Jones is advocating for more awareness and education to help squash these harmful misperceptions.