A New Study Finds The COVID-19 Pandemic Has Left Parental Burnout At An All Time High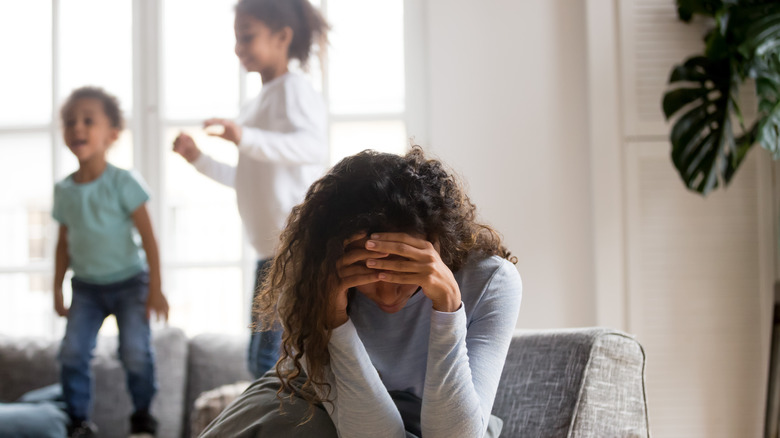 fizkes/Shutterstock
There's little doubt that the COVID-19 pandemic has caused a great deal of burnout for much of the population. Healthline defines burnout as having a pessimistic outlook and feeling emotionally exhausted, especially in demanding environments. It also includes anxiety about the future, both that of your family as well as that of the world. Burnout may also result in being less productive at work, which may begin as an inability to focus, leading to poor performance and feeling like a failure. All of this can lead to stress and depression.
COVID-19 burnout is a natural response and just about anyone can fall victim to it. The American Psychological Association (APA) reports that 3 out of 5 employees experienced negative effects of stress, such as lack of motivation or energy, fatigue, and emotional exhaustion. This is higher than before the pandemic. Now, new research shows that the effects of the pandemic have found their way into homes, leading parents to suffer from burnout.
More than half of parents surveyed suffered from burnout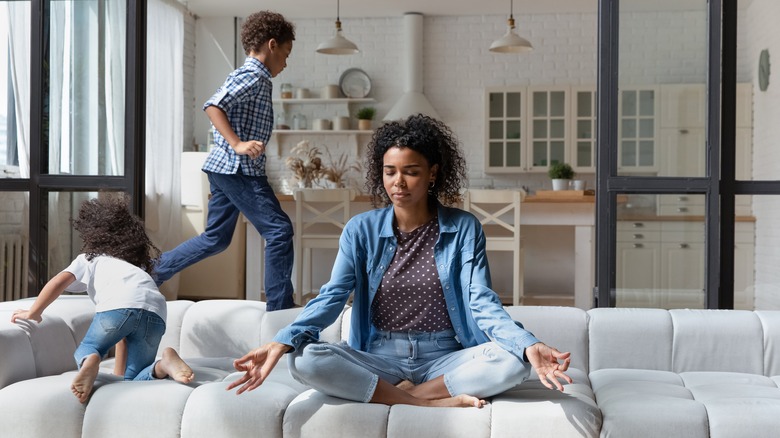 fizkes/Shutterstock
Researchers from Ohio State University (OSU) surveyed 1,285 parents of children under the age of 18 living with them from January 2021 to April 2021. Of those surveyed, 66% percent said that they were suffering from burnout. Women experienced more burnout than men (68% and 42%, respectively). Results also showed that 77% of the parents with a history of anxiety experienced burnout. Parental burnout was linked not only to depression and anxiety, but an increase in alcohol use and the probability that parents might punish their children.
The health of children also played a role in parental burnout. 77% of parents of children with ADHD reported burnout, as did 73% of those who had a child with anxiety. Children of parents who suffered from burnout seemed more likely to experience sadness and worry, fight with other children, tease others, and not obey rules. They also seemed more likely to be easily distracted and have trouble concentrating (via OSU).
If you're suffering from parental burnout, OSU recommends practicing self-care, such as meditation and exercise. You might also talk to a doctor or therapist and ask for help on learning how to cope.