Experts Find Medical Racism Has Led To Vaccine Hesitancy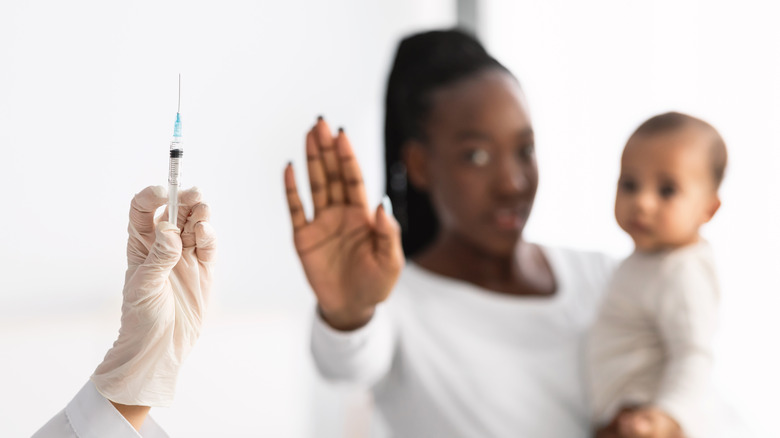 Prostock-studio/Shutterstock
When selecting a doctor or a healthcare facility, many people consider if the provider is knowledgeable, has a good bedside manner, or if they are credentialed to provide care. Wondering if racism will be a factor in receiving quality healthcare is often the first thing that many ethnic minority groups consider. These thoughts are rooted in the historical distrust for the healthcare system and the experiences many ethnic minorities face today.
In 1932, the US Public Health Service (USPHS) initiated what is known as the USPHS Syphilis Study at Tuskegee, according to the Centers for Disease Control (CDC). Black sharecroppers who were poor and didn't have access to regular healthcare were led to believe that they were receiving treatment for "bad blood." However, the 399 black men didn't receive treatment because they were being studied on the effects of untreated syphilis (via CDC). The effects of the historical mistreatment of Black people in the healthcare system still linger today. According to the Commonwealth Fund, a 2020 poll revealed that 55% of Black Americans did not trust the healthcare system. A new study has revealed that medical racism has taken a toll on the health of people of color during the COVID-19 pandemic.
Healthcare discrimination during the pandemic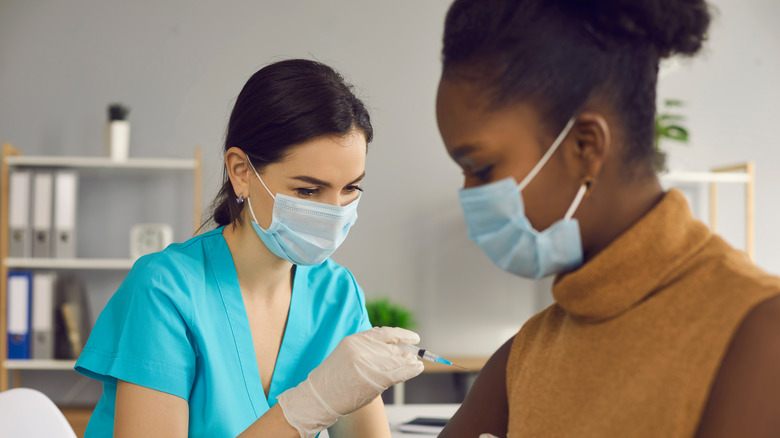 Studio Romantic/Shutterstock
A study in the United Kingdom reported that during the pandemic, one out of 10 people from an ethnic minority group who refused to get the COVID-19 vaccine had experienced racial discrimination in a healthcare setting at some point during the pandemic, according to Healthline. The same group also experienced twice as much racial discrimination as others who voluntarily received the vaccine. Although the study was not done in the United States, experts believe that medical racism is the cause of vaccine hesitancy among American people of color (via Healthline).
Dr. Elise Paul, lead study author and senior research fellow in epidemiology and statistics at the University College London, stated in a press release, "Our findings confirm evidence from before the current pandemic, which found associations between experiences of racial discrimination and distrust of the healthcare system and physicians among ethnic minority adults," (via Healthline).
Michele Ruiz, the co-founder and CEO of BiasSync, a science-based assessment and development software solution designed to help organizations reduce the negative impact of unconscious bias said, "If they've experienced disrespect or mistreatment, it's easy to understand they have reluctance to see healthcare professionals" (via Healthline).