Can You Use Too Many Skin Care Products?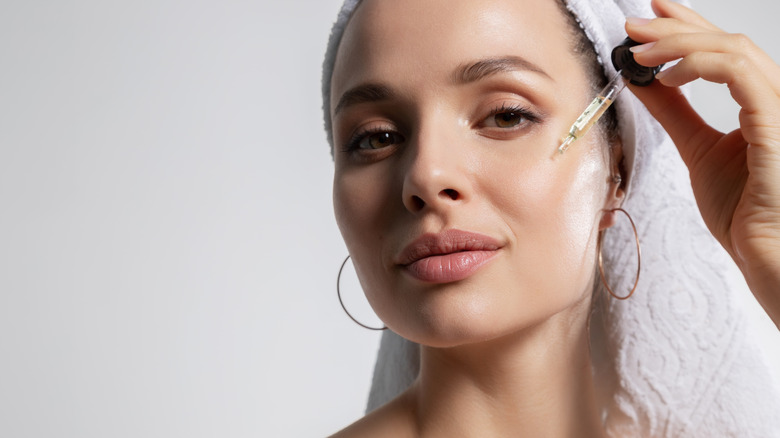 popcorner/Shutterstock
With so many skincare products available, it can be difficult to tell how many products you should be using. As a result, many have become accustomed to using far too many products on their skin (via Well+Good).
From cleansers to toners to serums, there is a wide variety of skincare products out there that promise to do everything from getting rid of impurities to hydrating your skin or even ridding your skin of fine lines and wrinkles. But can using too many products at once do more harm than good? As it turns out, yes, there is a downside to using too many ingredients on your skin.
In fact, using too many skincare products with powerful active ingredients can cause dryness, redness, and irritation. A shiny forehead is another glaring side effect of over-exfoliation and using too many products. According to Dr. Susan Cox, a partnering dermatologist at Higher Education Skincare, people tend to assume that it's better to use more when it comes to applying skincare products to your face, but doing so can actually "irritate your skin to the point that you can't tolerate anything."
How many skin care products should you use?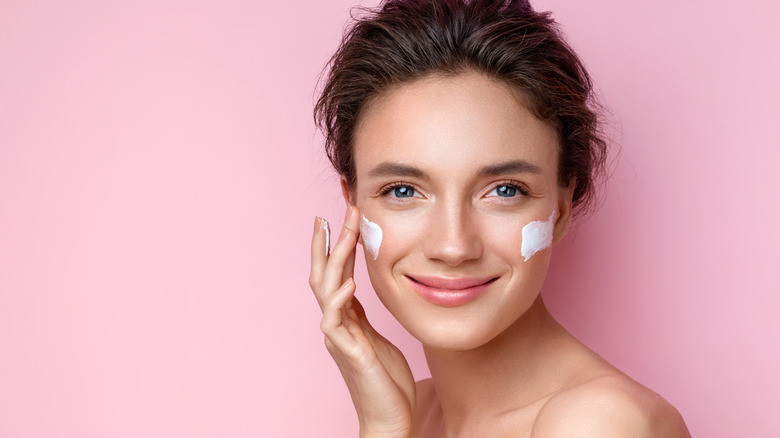 RomarioIen/Shutterstock
If your skin feels tight after cleansing your face and using other exfoliating products, it's a sign that you're doing too much. Believe it or not, washing your face too often or using facial cleansers with harsh ingredients can strip your skin of its natural oils, which can dry out your face and lead to an overproduction of oil (via HelloGiggles). This may prompt you to use a bunch of serums, oils, and moisturizers on your face to try to rehydrate your skin. However, this won't necessarily do anything to help.
As a matter of fact, layering skincare products can make your skin feel even more sensitive and irritated. It can also lead to inflammation, depending on the combination of products used. For instance, you don't want to use products like vitamin C serum and retinol at the same time. This combination is just too harsh for most skin types.
Experts tell HelloGiggles that your daily skincare regimen only needs up to 3 or 4 products, most of which should include moisturizer, sunscreen, and a gentle cleanser. You can also use spot treatment if you have acne-prone skin.