Olympian Gabbi Cunningham Reveals How Social Media Impacts Elite Athletes - Exclusive
This interview contains discussion of mental health issues.
The day that Gabbi Cunningham found out she was going to the Olympics should have been the happiest day of her life. But her joy was tempered by a social media firestorm. As soon as Cunningham announced that she was headed to the Tokyo Games on Twitter, her replies were filled with negativity — not because of anything Cunningham had done, but because she was replacing Brianna McNeal, who'd been banned from competing due to a doping scandal, according to WCNC Charlotte. 
To make matters worse, the controversial suspension of Sha'Carri Richardson happened right before Cunningham was tapped for the team, and many on social media thought she was replacing Richardson. So instead of being congratulated on her monumental achievement, Cunningham was attacked.
The experience taught her a lot about the toll social media can take on the mental health of public figures, especially elite athletes. In an exclusive interview with Health Digest, Cunningham talked about what it's like to deal with the negativity of social media and how she's learned to deal.
It's an unhealthy relationship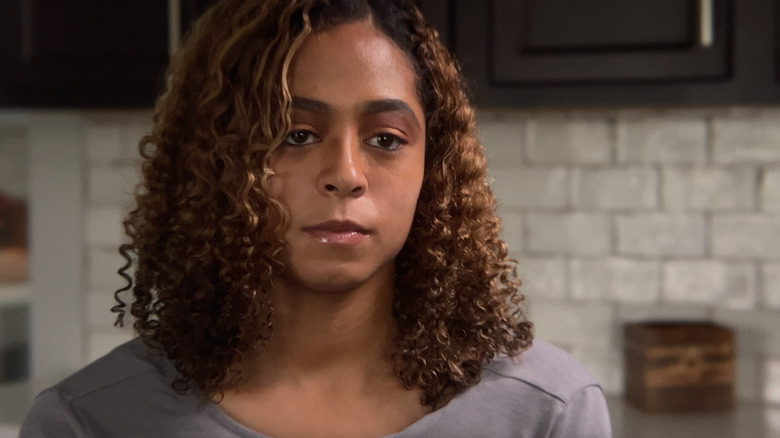 Darryl Roberts
Before Gabbi Cunningham started competing at an elite level, she didn't spend much time on social media. But once her performances earned her renown, she discovered that social media was part of the job. Though she's grateful to have her platform to connect with fans, Cunningham acknowledged that the constant access to people's opinions gave her an unhealthy relationship with social media.
"Some people don't ever have the negative interactions that come with social media. I had never really experienced that before making the team," she recalled. "For me, it was a lot ... I found myself constantly reading the comments and seeing what people were saying."
She also admitted that fans having direct access to her on social media has some serious downsides.
"When they do have that direct line to you, people can say anything that they want and it's like you can do nothing about it," Cunningham told Health Digest. "Social media ... has, in a sense, not created the healthiest relationship between athletes and fans."
Cunningham said she wished fans understood that most athletes, herself included, are already harder on themselves than fans could ever be. So when fans slam them on social media, they're exacerbating an already painful situation.
'You have to give yourself those mental breaks'
After her first experience with the negative onslaught of social media, Gabbi Cunningham knew that the only way to protect her mental health was to periodically leave social media.
"When it starts to become a lot of pressure on me, I do take a step back from social media," Cunningham revealed. "I will completely delete it because I feel like it gives me a fresh restart ... You have to give yourself those mental breaks or else it will drive you crazy."
In addition to taking breaks from social media, Cunningham relies on some tried and true methods for maintaining her mental health.
"I also practice talking to my coaches, talking to my family members and my support team, my system that works around me, and their encouragement helps me a lot," she said. "I will try to pick up a book that reinforces positivity or listen to some type of motivational video so that I don't start to get into the bad [part] of a slump."
Cunningham stressed that taking care of her mental health is one of her top priorities because to perform her best on the track, she needs her mind to be at its best.
Find your local station listings and airtimes for "I'm Fine, (Not) Really" at imfinenotreally.com. You can also visit mondocares.com to keep up with current initiatives, and follow them on Instagram at @MondoSportUSA and @MondoCares, and on Twitter at @mondocares.