Palliative Care Versus Hospice: What's The Difference?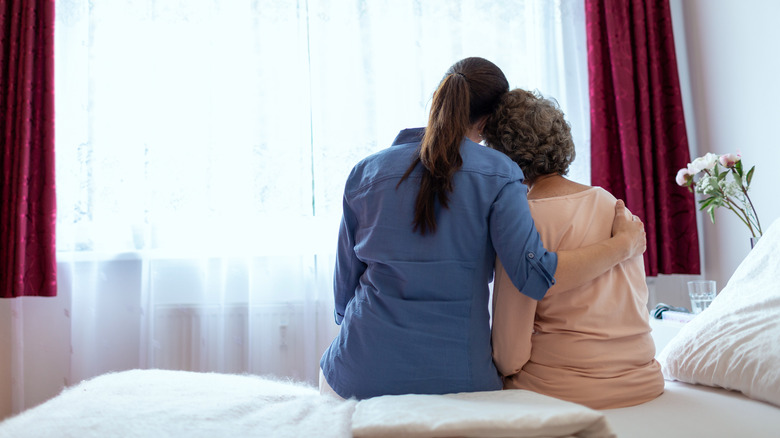 Newman Studio/Shutterstock
Before understanding the difference between palliative care and hospice, it's important to know what each one entails. In 1974, Dr. Balfour Mount came up with the term palliative care to distinguish it from hospice care, as per NEJM Resident 360. Palliative care was designed to treat a patient's pain while going through a serious illness, points out Keystone Hospice. This care isn't limited to the physical symptoms of a disease, which is treated in tandem but rather addresses all aspects of the human experience, including emotional, spiritual, and psychological pain. The goal is to help a patient manage their pain while fighting their disease until they reach a point of overall recovery.
Hospice was developed in the 1960s by Dame Cicely Saunders, who believed that people experiencing a terminal illness were in need of specialized care, as per Forbes. Like palliative care, hospice would focus on the entire human experience, not just the physical symptoms of the disease or condition. Hospice teams also provide a wide range of care, from administering pain-relieving medications to personal caretaking tasks, and even grief counseling for the terminally ill as well as their family members, as explained by the American Cancer Society. This care is usually available 24/7 until the patient reaches the end of their life. One 2014 study published in JAMA pointed out the many benefits of hospice care, including lower rates of hospitalization at the end of life, fewer invasive procedures, and less overall medical costs.
Palliative care and hospice have one key difference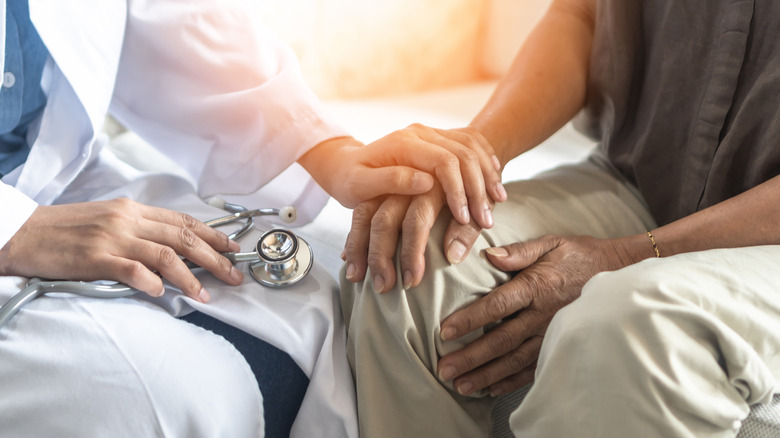 Chinnapong/Shutterstock
While palliative care and hospice fall under the same umbrella of holistic care and share many similarities, there is one key difference between them. For a patient to qualify for hospice over palliative care, they must have less than six months left to live and no longer be pursuing any further curative treatments, as per MedicalNewsToday. In other words, hospice is geared only toward the terminally ill while palliative care encompasses all stages of illness. In fact, in most cases, those who opt for palliative care do so for added support in managing their quality of life as they recover from their illness.
There are a couple of other secondary differences that distinguish palliative care from hospice (per MedicalNewsToday). The first is that hospice care completely substitutes any care provided by a medical team while palliative care teams work in conjunction with the medical team. Another difference is that palliative care isn't given continuously, but rather on an as-needed basis that can ebb and flow during the course of an illness. Hospice care is provided around the clock until death occurs. Lastly, while most insurers tend to cover both hospice and palliative care, the former is always covered by Medicaid and Medicare while coverage for the latter varies depending on the insurance company, as explained by Cigna.