What To Know About Biden's New Initiative To Reduce Nicotine Levels In Tobacco Products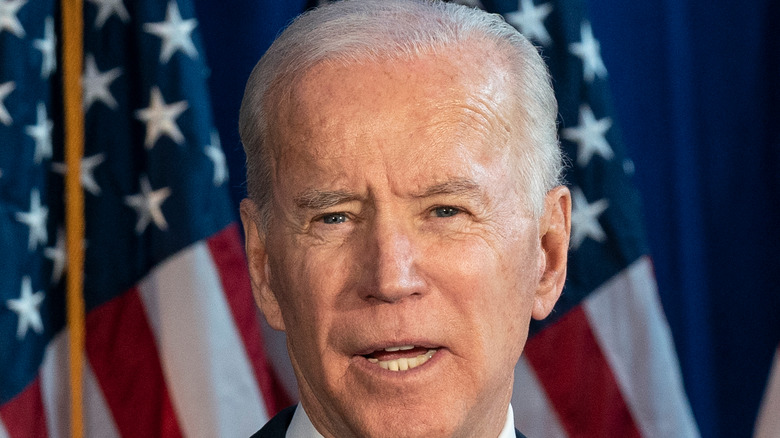 Lev Radin/Shutterstock
In an effort to reduce people's addiction to smoking and prevent new smokers from taking up the habit, the Biden administration has indicated that it will propose a new rule that may establish a cap on the amount of nicotine allowed in cigarettes and other tobacco products, per CNN. This new rule is part of the "unified agenda" the government releases semi-annually to outline planned regulatory actions.
According to the Centers for Disease Control and Prevention (CDC), approximately 480,000 Americans die annually due to smoking. This includes roughly 41,000 deaths due to second-hand smoke inhalation. The CDC predicts that if current smoking trends among young Americans continue, over 5.5 million people under the age of 18 will die prematurely in connection to illnesses related to smoking.
These statistics are the main driver for the Biden administration's implementation of the new rule. Reducing nicotine in cigarettes to levels that are less addictive or non-addictive could reduce the chances that young people will become addicted to smoking and may also help young smokers quit, FDA Commissioner Dr. Robert Califf said in a statement (per CNN).
Why is nicotine addictive?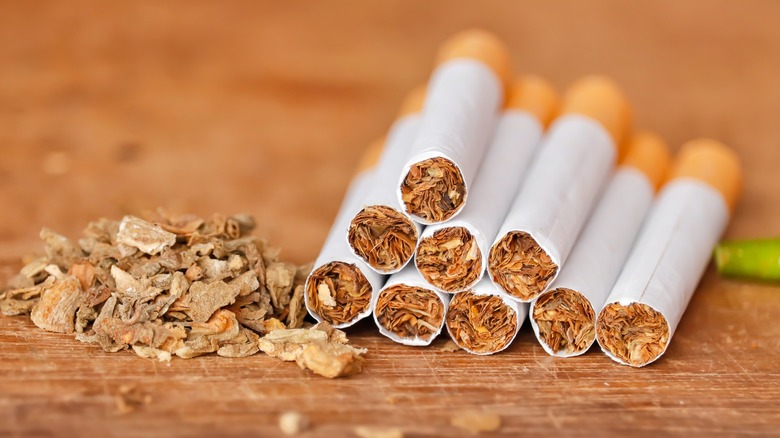 Dineshahir/Shutterstock
Nicotiana tabacum is the name for the type of nicotine that comes from tobacco plants, which are part of a family of plants called nightshade. Nicotine is a chemical that can also be found in other nightshade plants, such as red peppers and tomatoes. The tobacco plant is indigenous to the Americas, but it eventually found its way to Europe. By the 17th century, pipe-smoking became a popular pastime. The cigarette industry took off two centuries later in the wake of the invention of mass-produced paper cigarettes, per MedicalNewsToday.
While nicotine is not a carcinogen, it is a highly addictive substance that can be hard to quit. When you ingest nicotine, it initially acts as a stimulant. Nicotine also creates a pleasurable sensation because it triggers the release of dopamine in your brain, similar to heroin and cocaine. Ingesting nicotine can also create feelings of euphoria, greater alertness, and wakefulness. These upsides come with a high cost of side effects that can include increased risk of heart disease and stroke, gastrointestinal issues, and sleep problems, among others, per MedicalNewsToday.
If you have a nicotine dependency, there are various treatment and counseling options available. In addition, researchers are continuously exploring new and optimal ways for people to manage their nicotine addiction and withdrawal symptoms.
If you or anyone you know is struggling with addiction issues, help is available. Visit the Substance Abuse and Mental Health Services Administration website or contact SAMHSA's National Helpline at 1-800-662-HELP (4357).