Travis Barker's Health Scares Over The Years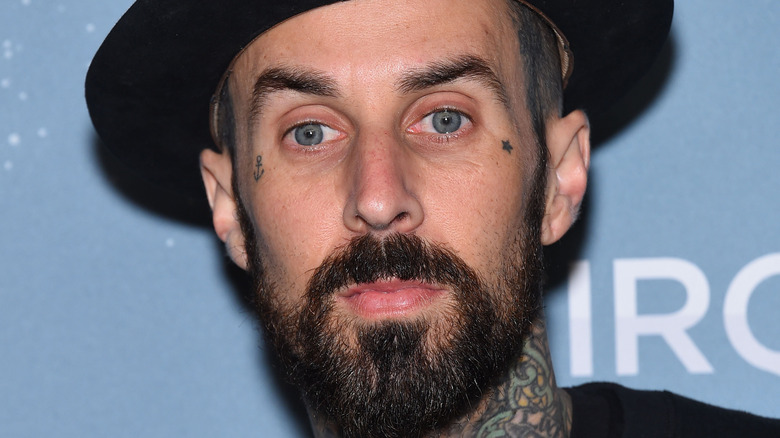 DFree/Shutterstock
Travis Barker, drummer for rock band Blink-182, has been reportedly hospitalized for pancreatitis (per Entertainment Tonight). The musician was seen being transported on a stretcher in Los Angeles on Tuesday, June 28. According to the L.A. Times, Barker was a patient at West Hills Hospital and Medical Center on Tuesday morning. He was then rushed to Cedars-Sinai Medical Center for additional care. His wife, Kourtney Kardashian, was spotted by his side as medical staff transported him.
According to WebMD, pancreatitis is a condition that involves inflammation of the pancreas. It can cause serious complications including infection, kidney failure, trouble breathing, and pancreatic cancer. Symptoms of pancreatitis can be upper abdominal pain, nausea, vomiting, fever, and rapid pulse (per Mayo Clinic).
On the morning of his hospitalization, Barker tweeted "God save me" before reports came out of his health scare. His 16-year-old daughter also took to social media to ask followers to "please send your prayers", posted on her Instagram story.
Travis Barker's previous health scares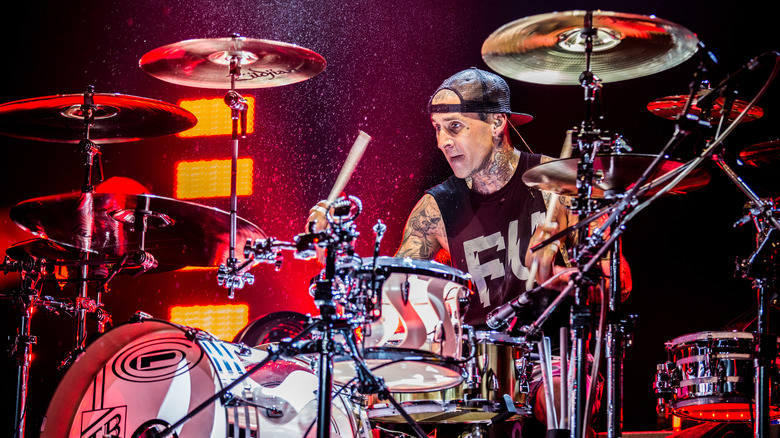 Ant Palmer/Shutterstock
Barker has experienced medical issues in the past, including blood clots found in his arms in 2018 (per Yahoo News). He was instructed by his doctors to refrain from activity that could cause further damage, leading Blink-182 to cancel or postpone several tour dates in 2018 while Barker handled his medical issues. As he prepared to go back on tour, Barker told Yahoo Entertainment, "I still am on blood-thinners, because I have scarred veins that are creating blood clots. But I'm touring and I'm playing drums every day, so I'm fine."
Later in 2018, Barker was readmitted to the hospital for a staph infection and cellulitis.
He told Yahoo, "I had no idea. I just had a weird show in Vegas and I wasn't sure what was going on. And then come to find out, I had staph and about 40 to 50 blood clots in my right arm and 10 to 20 in my left arm."
In 2008, Barker also survived a tragic plane crash that killed four out of six passengers (per Men's Health). The crash left Barker with third-degree burns on 65% of his body, requiring him to undergo more than 20 surgeries and several skin grafts. Barker spent three months in the hospital recovering from his burns and learning how to walk again. He also did months of therapy to treat his post-traumatic stress disorder after the crash.