Research Reveals The Startling Low Number Of Americans With 'Optimal' Heart Health
Create Jobs 51/Shutterstock
Heart disease is the leading cause of death in the U.S. for all genders, races, and ethnic groups. According to the Centers for Disease Control and Prevention, 659,000 people die from some form of cardiovascular disease each year, equating to one out of every four deaths. Coronary artery disease tops the list as the most common heart disease, and 805,000 people in the U.S. have a heart attack annually.
While those numbers are staggering, new research published in the journal Circulation reveals that most people in the U.S. have less than optimal heart health. Researchers gathered data from 23,409 participants between the ages of 2 and 79, representing 201,728,000 adults and 74,435,000 children from 2013 to 2018. They measured heart health using metrics derived from a tool called Life's Essential 8, which focuses on certain factors and behaviors including diet, exercise, sleep habits, blood sugar, nicotine use, body mass index (BMI), blood pressure, and cholesterol levels. The results were surprising.
Over 80% had low-to-moderate heart health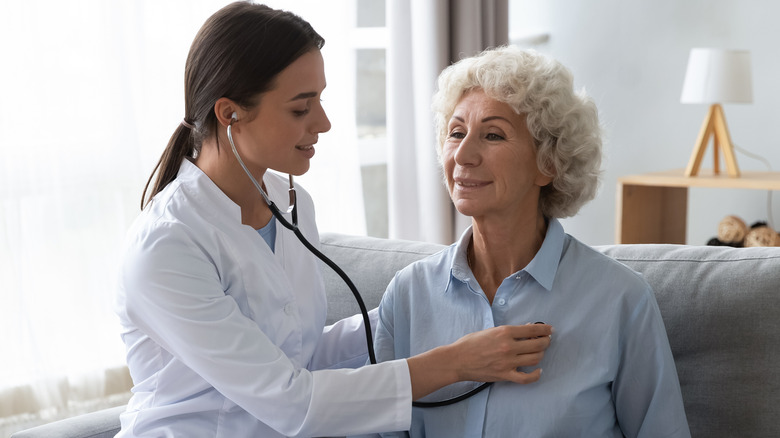 Fizkes/Shutterstock
Researchers found that only one-in-five Americans has optimal heart health. Data showed that out of a score of 100 on the cardiovascular health scale, the average adult scored 64.7 while the average child scored 65.5. The scores also highlighted a difference between men and women (62.5 and 67, respectively). 
Overall, the results revealed that only 0.45% of people in the U.S. scored 100 for heart health. Just 19.6% of the adults had what was considered high heart health, 62.5% had moderate heart health, and 17.9% had low heart health. Non-Hispanic Asian Americans scored higher than any other racial group, and Non-Hispanic White Americans scored second-highest, followed by the Hispanic, Mexican, and Non-Hispanic Black groups. The lowest scores were associated with diet, physical activity, and BMI, and scores were typically lower in older individuals (via the American Heart Association).
If you're looking to improve your heart health, WebMD recommends maintaining a healthy weight and BMI, getting enough sleep, managing blood pressure and cholesterol levels, not smoking or vaping, and getting 150 minutes of moderate exercise per week.