Is It Too Late To Control The Monkeypox Outbreak?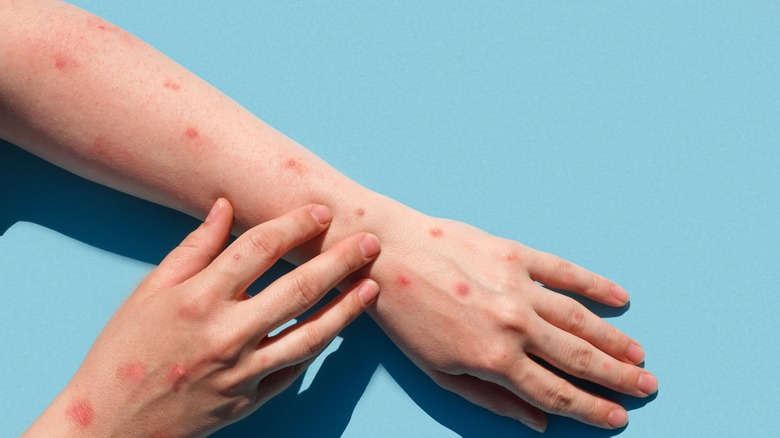 Marina Demidiuk/Shutterstock
The window to control the monkeypox outbreak in the U.S. may soon be coming to a close, according to Scott Gottlieb, the former commissioner of the U.S. Food and Drug Administration (FDA). As monkeypox cases continue to rise, Gottlieb and other health officials are expressing a lack of confidence in the country's ability to effectively stop the spread of the viral disease (via Insider).
"We're now at the cusp of this becoming an endemic virus where this now becomes something that's persistent that we need to continue to deal with," Gottlieb said on CBS' "Face the Nation" on Sunday.
Data from the Centers for Disease Control and Prevention (CDC) shows that there are currently more than 1,800 confirmed cases of monkeypox in the U.S., with at least one case in every state, as of July 15. Monkeypox is spread through close contact with someone infected with the virus and can cause a range of unpleasant symptoms including fever, rash, lesions, and flu-like symptoms. In rare cases, it can even cause anal pain and bleeding, or appear without lesions. While efforts to eradicate the spread of the disease have focused largely on men who have sex with other men, monkeypox can affect anyone, regardless of gender or sexual orientation (via Yahoo Life).
Experts blame a lack of widespread testing and vaccinations
angellodeco/Shutterstock
According to Dr. Anthony Fauci, the White House chief medical adviser and director of the National Institute of Allergy and Infectious Diseases, the number of confirmed monkeypox cases in the U.S. is "very likely an undercount." That's because health officials have largely been testing gay and bisexual men, as well as people at STD clinics, who make up only a fraction of people in the U.S. who could potentially be infected with the virus (via CNN). As a result, Gottlieb is urging the need for more widespread testing. "So, we're looking there, we're finding cases there, but it's a fact that there's cases outside that community right now," Gottlieb said. "We're not picking them up because we are not looking there."
In addition to a lack of early testing, not enough monkeypox vaccines have been distributed so far, contributing to the possibility that monkeypox might be here to stay. Efforts to test and vaccinate people against monkeypox should have been more aggressive much earlier on, Gottlieb says. While the monkeypox vaccine still remains in short supply in the U.S., upwards of 700,000 vaccines are expected to be distributed by the end of July.